It's the middle of the afternoon and you need a boost. What do you do? You could reach for the coffee, but caffeine loses its effect after a while. Not to mention it's only a temporary lift. You need lasting energy. So what do you do?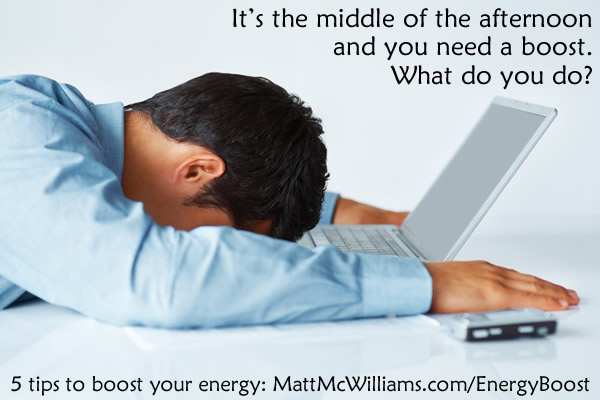 Here are 5 ways to boost your energy at the office or at home. #3 changed my life…seriously.
1. Go green.
No, I don't mean you need to recycle something. Add some green to your office or home.
A Taiwanese study (read it here…fascinating stuff) found that plants promote peaceful feelings. Real plants give you the added benefit of increased oxygen in the air and they act as a natural air purifier, but the study found that just the sight of plants decreased anxiety and stress. Anxiety and stress are energy vampires, sucking the life out of you. So, green things up and you'll be more peaceful and energetic.
2. Get up and move.
As I've written before, movement increases mental acuity. It also boosts your energy.
If you sit all day on the job, or even if you use a standing desk like me, make sure to get up and move at least every half hour. Yes, every half hour. Break your workday into 27 minute segments and take 3 minutes to move around.
If you think that will eat up your day and make you less productive, think again. The added energy will help you get more done in less time.
3. Relax.
It might seem counterintuitive, but taking a few minutes 2-3 times during the day to completely relax will actually boost your energy.
During one of your breaks, close your eyes, breathe deeply, and let your entire body relax for 1-2 minutes. Clearing your mind and allowing your body to relax in this way will boost your energy within 10 minutes of doing it.
NOTE ON DEEP BREATHING: Most people do it wrong. A deep breath is not a grandiose inhale and quick "I'm going to blow your house down" puff. The inhale takes a full 10+ seconds and the same for the exhale. I've found it helps to parse your lips.
When I started doing this, it truly changed my life.
4. Get the right lighting.
Most offices have the wrong lighting.
It's either too soft or it's too direct. For optimal energy, get lighting that mimics the lighting you would find outside. Get 6500k bulbs that give off a bit of a blue tint. Turn off the overhead lighting if at all possible and stick to desk and floor lamps that point the light toward the walls or ceiling.
These are especially important during the winter months when natural light is less prevalent.
5. Be cool.
Your body uses more energy to cool itself than to warm itself.
Think about what is more exhausting…running on an 80 degree day or a 64 degree day. Both are only 8 degrees from room temperature, but one is sweltering while one is actually quite comfortable.
While you may not be running a race, your body is still working hard to cool you off when it is warm. So, make sure to stay cool during the day.
Normally, it is best to drink water that is only slightly cooler than room temperature, but if you need a lift, drink a glass of ice cold water. Or splash some cold water on your face or wash your hands in cold water. Your body will think that it has cooled off more than it has and will work less, giving you some extra energy.
Next time you need a boost, try any or all of these tips. You'll find yourself no longer in need of that cup of Joe.
What tips do you have for someone in need of an energy boost?