What advice would you give to yourself a year from now? How about five or ten years from now?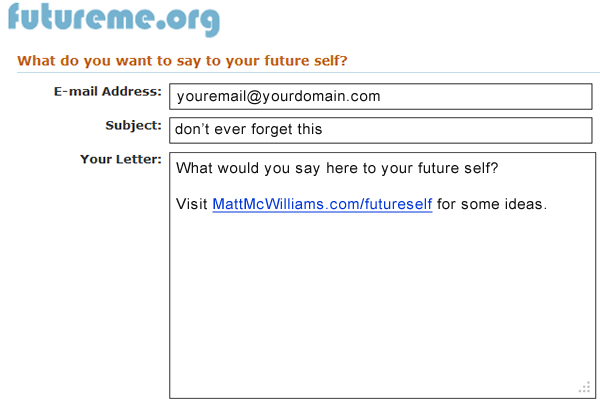 I love the site FutureMe.org.
You can write yourself an email and it is delivered at a chosen date in the future.
What would you write your future self?
Maybe you just got a new job and you want to remind yourself how blessed you are. Time can jade you. It helps to remember how awesome that place was the day you first walked in.
Or maybe it's the feeling you have today as you hold your newborn baby. Two and Three-year olds can be a handful. Sometimes you need to be reminded of how fragile they still are.
Perhaps it's the day you did something you regret. You gave in to a chemical addiction from which you've been clean for two years. You want to remind your future self that you need to take one day at a time.
Today, I wrote myself a letter telling myself to never forget the feeling a certain email gave me yesterday. A year from now, I want to remember that moment.
I will also use it to remind myself of how recently, in the middle of my workday, my almost three-year old daughter called and asked if I would go to a certain store and then eat with her and mommy. In my mind, I was racing through all of the things I had to do and all of the money I would leave on the table if I did.
But I said yes. And it was worth it. I stayed up until 12:30 am finishing my work and I was exhausted the next day as a result, but I would remind myself of this:
Memories are created when loved ones call and I answer.
One day I will forget how amazing that day was. I will forget the love that a little girl felt.
But then a voice from the past, my voice, will remind me.
Action item: Write your future self a note.
What do you want to tell your future self?