The following is an excerpt from my upcoming book, One Last Round With Dad. I don't have a release date yet, but there will be much more to come. This is Chapter Five in its entirety.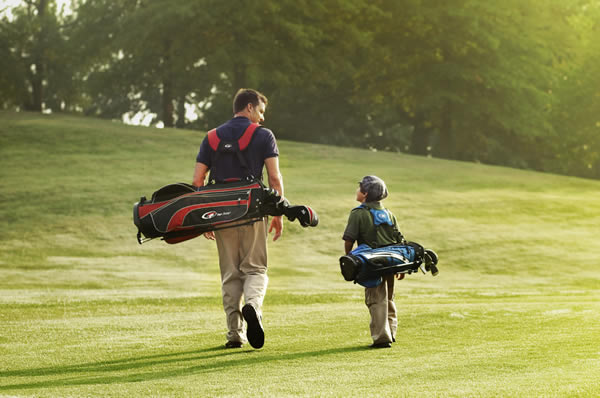 As we walked up to the third tee, I was torn apart inside.
What do I say to him? Is this even real?
I decided to do the only thing I knew how to do. I focused on myself. I focused on my golf. I became determined to play this round on my terms. My father was an afterthought now, just like he had been for seven years. This fairytale, or whatever this was, didn't change that.
As I stood over my tee shot, I was more determined than ever to hit a good shot. But at the last moment, right before I swung, doubt creeped into my mind. I thought to myself, don't hit it right. My mind saw the ball going into the dark abyss of a dense forest lining the right side of the fairway. I tried to stop it, but the next thing I knew, I was swinging with all my might only to look up to a ball trailing off to the right, headed for the very thing I wanted most to avoid.
I exploded with violent anger. Not at the outcome of my effort and the ensuing penalty shot I would now take. Not at my own thoughts that led me there in the first place. It was as though all of the anger of thirty-four years of abandonment, loneliness, and unanswered questions exploded in that moment. The hurt and the confusion of a two-year old boy. The rage of a lost teenager. The disgust of a grown man watching his dad kill himself with a bottle. The fear that I would be the same as him. It all came out then.
"Why did you leave us?" I screamed up into thin air. These words weren't only for my father. I was screaming at him, at God, at everyone.
"Why did you walk out on us? Why did you just leave me alone like that? I was two years old. How could you? I hate you. I hate you. I hate you."
My words now aimed directly at my father who was looking right into my eyes. I had fallen to my knees in agony as I screamed. Tears rolled down my cheeks and onto the carpet-like turf of the tee box. My world, as I knew it, darkened around me and the weight of thirty-plus years of wanting to say those words, "I hate you," to my father, felt heavier than ever. I thought that getting them out would relieve the pain and lift the weight off my shoulders, but when I had finally said them, the sound of the words crushed me.
When I finally looked up, I saw his hand reaching out to help me. The rage still boiled inside me, but his eyes…again with those eyes…they stopped me in my tracks. What was it about his eyes now? They were different. They'd never had this effect on me before. They calmed me. They showed me what no words could ever express. They showed true regret. They showed the heartache of a father for his hurting son.
He lifted me up and we strolled down the fairway together. It was no more than two minutes before he broke the silence, but it seemed like hours. I wanted answers to my questions and I wanted them now. Instead, I got his first life lesson of the day.
"What happened back there?" he asked.
"Nothing," I replied. "I was just – just forget about it. You have no idea what it's been like."
"I meant before your shot. You hesitated. You had the shot lined up perfectly in your mind, but something changed. You doubted. You saw the ball go exactly where it ended up."
"H-h-how could you-" I stuttered before he cut me off.
"Don't worry about how I know. I just do. So, what happened?"
Now I was madder than ever. He didn't answer me about why he left. He abandoned us when I was two, showed back up years later, stayed with me for a while, then died. And he won't answer my question! He just ignored it.
The thought crossed my mind to kill him in my anger. But how would that work? He's already dead. Yes, I could touch him, but how do you kill a dead man? I spent the next two minutes debating with myself about the possibility. It was actually quite comical.
I wanted to kill to a dead man.
Could I just think him away? Maybe if I just closed my eyes hard enough and imagined him jumping off of a cliff, he would be gone. What if I just walked away? Would he just "poof" himself right back next to me? The comic relief that my own rambling thoughts provided were enough to calm me down. Then I remembered that he could hear all of my thoughts. When I looked over at him, he just smiled. I decided to get back to his topic, if for no other reason than to humor him. So why did I have the negative thought right before I swung?
"I don't  know," I began. "I guess it's just because I haven't played in so long. I'm a little rusty."
"No, that's not why," my father interrupted. "You did the same thing even at the peak of your playing career.
"Son, the mind doesn't understand negative visual images. It doesn't understand the 'don't' in 'don't hit it right.' It just interprets that as 'hit it right.' You set yourself up for that shot. You set yourself up for failure in your mind, before you ever even swung the club."
"Is that why you're here today?" I asked sarcastically. "To help me with my golf game? I couldn't possibly care any less about it, dad. At least, not until you showed up. So why are you here anyway? What is this all about? If this is about golf, I'm done. I don't need this. I don't need you."
My father stared off in the distance for a brief moment, as if questioning his reason for being there himself. Or was he just giving me space?
He turned to me, looked me in the eyes again, and told me that he wasn't sure he wanted to be there at that moment, but that he had been given a chance to come back and tell me all of things he should have but never did. It was an opportunity he couldn't pass up, he explained. So I gave him a chance to say what he wanted or needed to say.
"That doubt in your mind as you stood over the ball just now," he continued. "It goes far beyond golf, son. It's in every part of your life. I've seen it in your businesses, your relationships, your marriage, as you raise your –"
I interrupted him. "Wait…you've seen my life since you –" I searched for the words. "Since you…died?"
"Yes, son. I've seen it all. The pain. The triumphs. The lies you've told yourself. The fear in your mind. Everything. I've been there all along, just unable to help. But I am here now. And I can help you, if you'll let me."
"It's been seven years, dad. I watched them bury you. I watched you die. Every day, I watched you kill yourself. I saw that disease take your life away. I watched it take you away from me, even while you were still here. This can't be real. You can't be here right now. You can't help me."
"It can be real," my father said as he placed his hand on my shoulder. "If you want it to be. I can help you, but only if you let me."
None of the anger left me. All of the hurt remained. So, too, for the doubt. All of them remained strong.
My entire history again flashed before me. My demons battled with my angels. Part of me wanted to listen, but part of me wanted to rage against this man, a man I hardly ever knew.
The angels won. I knew that I needed help. My life was a mess and I had what I assumed was a once in a lifetime opportunity. And, for the first time in my life, I felt sorry for my father. I actually believed him when he said he wanted to help.
"So how do I stop doubting so much?" I asked. It was my way of telling him to proceed. "You're right. It's always been there. It's the reason I quit golf at the height of my career. It's why my marriage is failing and my business is in shambles. I want to be a good parent, but I never see what that actually looks like. All I see is what I've always known, not what I want. You say you can help me. Let's see it."