Aren't great leaders supposed to know it all? That was the lie I told myself for nearly a decade. Today's guest destroyed that belief once and for all. In this episode of the World Changer Show, he'll share why great leaders must be ignorant (or at least act like it).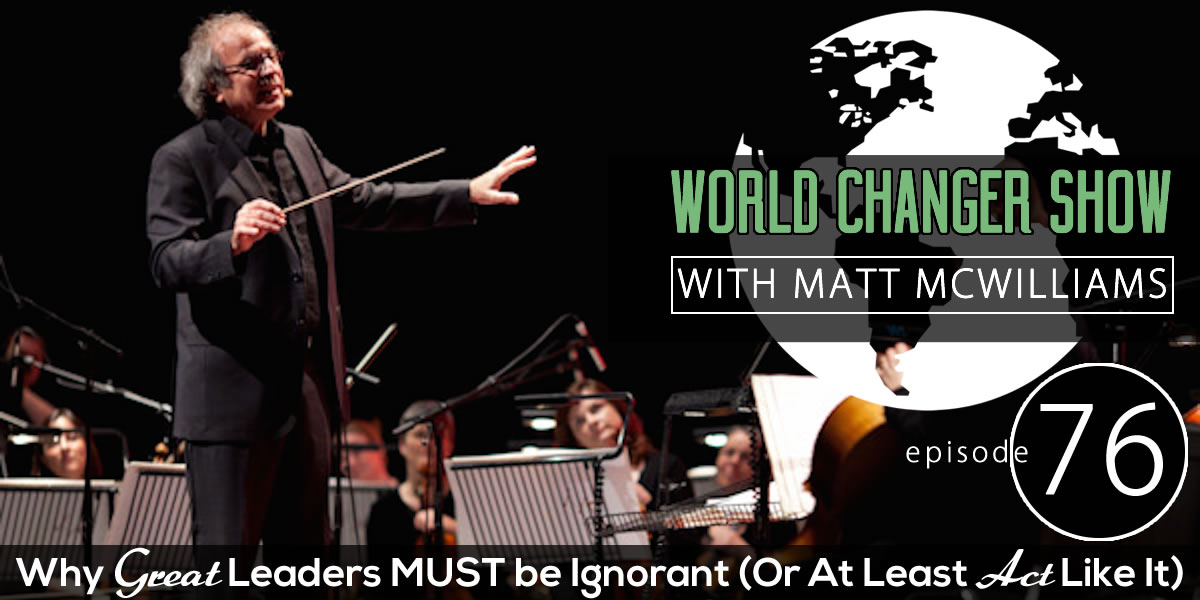 It's not very often that I read a book and recommend it as highly as I recommend the one we're talking about today. I was honored to join the author in a wonderful conversation about leadership, why ignorance is a necessary leadership trait, and what we can learn from world-class composers and conductors.
In this episode, we discuss:
Why you shouldn't be a know-it-all leader.
How ignorance is central to great leadership.
What you can learn about leadership from six world class conductors, all with very different styles.
What it was like to be mentored by the great Leonard Bernstein.
How "experts' syndrome" can hold you back and how to overcome it.
Why you must embrace the gaps in life (and how to do it).
What makes some music timeless and others forgettable.
How allowing individuals to express their uniqueness actually makes for better teamwork.
About Today's Guest
Our guest today is a protégé of the great conductor Leonard Bernstein and has conducted orchestras around the world. He is also the author of the amazing new book, The Ignorant Maestro, which has quickly become one of my favorite leadership books. Make sure to check out his popular TED Talk below in the resources section. To date, it has more than 3 million views.
He is an orchestral conductor turned into 'conductor of people' – be it in in government, academia, business, education, therapy –  anywhere the creation of human harmony through cooperation is desired. He teaches leadership to Fortune 500 companies, nonprofits and universities, and at conferences around the world, including TED, Google's Zeitgeist, and the World Economic Forum at Davos.
And, to top it all off, he is one of the most enjoyable, humble, and nicest people I've had the privilege of interacting with on this podcast. Please welcome to the World Changer Show, Itay Talgam.
Listen to This Episode
Episode Links and Resources
The Ignorant Maestro by Itay Talgam
FREE DOWNLOAD: 21 Questions Every Leader Should Ask
POST: Why Ignorance May be Your Biggest Asset
Itay's TED Talk:
Quote
An ignorant can teach another ignorant what he does not know himself. -Joseph Jacotot
Ask Me a Question
If you have a question, comment, thought or idea, you can leave a voicemail for me or contact me via email.
Subscribe to the Podcast
Share the Love
If you enjoyed the show, please rate it on iTunes and write a brief review. That would help tremendously in getting the word out and raising the visibility of the show so that we can inspire other World Changers just like you.
Next Episode
Join me for episode 77 with Brian Holmes. The title of the episode is "Now to Navigate Life's Difficult Transitions" and let's just say that you don't want to miss this episode. My belief is that all of us are either in a transition, just came out of a transition, or about to enter one, so this truly does apply to all of us.
How can you embrace ignorance more to better lead those who follow you?
Questions?
Text me anytime at (260) 217-4619.
Or…check out some of my free reports to help you get on the right track: