Why do you think the way you do? Why do you act the way you act? Why do you do everything you do? Do you know? Does it matter? Well today's guest will explain why it is vitally important to figure out why you exist…and how to express it.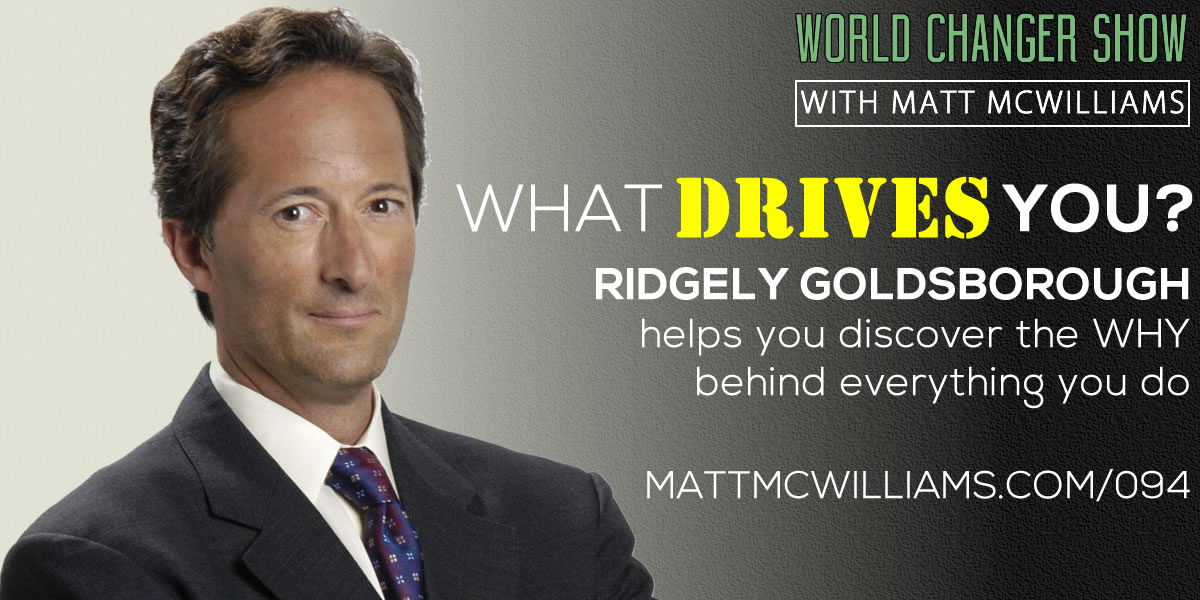 Today's Topics
In today's episode, our guest and I talk about:
The power of Entrepreneurship
Ridgely's biggest successes
Why your "why" is important
The process for discovering your "why"
Ridgely takes me through the process he goes through with his coaching clients to find their "why"
My "why"
About Today's Guest
Author and International Speaker, Ridgely Goldsborough, believes in taking complex and challenging issues and making sense out of them. He started his first business at the age of 16 and after graduating from Law School in 1987, has founded 43 companies. He has written 11 books, hosted his own television show and created dozens of audio and video programs on success and prosperity, and conducted dozens of online marketing campaigns.
Ridgely is the co-founder of the WHY Engine, the revolutionary marketing and messaging program used by professionals worldwide to attract ideal clients based on the company's WHY (and I might add, not just companies but this is powerful for individuals as well).
Listen to This Episode
Watch This Episode
Episode Links and Resources
FREE WORKSHEET: How to Set Positive Expectations
FREE BOOK: Who Will Change the World, If Not the Entrepreneur?
PODCAST: Episode 045: Building Your Own Brand and Starting with the World You Know with Mike Bruny
Quote
'He who has a why to live for can bear almost any how'
Ask Me a Question
If you have a question, comment, thought or idea, you can leave a voicemail for me or contact me via email.
Subscribe to the Podcast
Share the Love
If you enjoyed the show, please rate it on iTunes and write a brief review. That would help tremendously in getting the word out and raising the visibility of the show so that we can inspire other World Changers just like you.
What is your why?
Questions?
Text me anytime at (260) 217-4619.
Or…check out some of my free reports to help you get on the right track: