Do you remember where you were when you heard Robin Williams died? The whole world was in shock…this seemingly happy, joyful person we all loved had silently been hurting and was in pain. How many people do you know that might be silently struggling? In today's episode I talk with someone who has dedicated his life to helping those who struggle.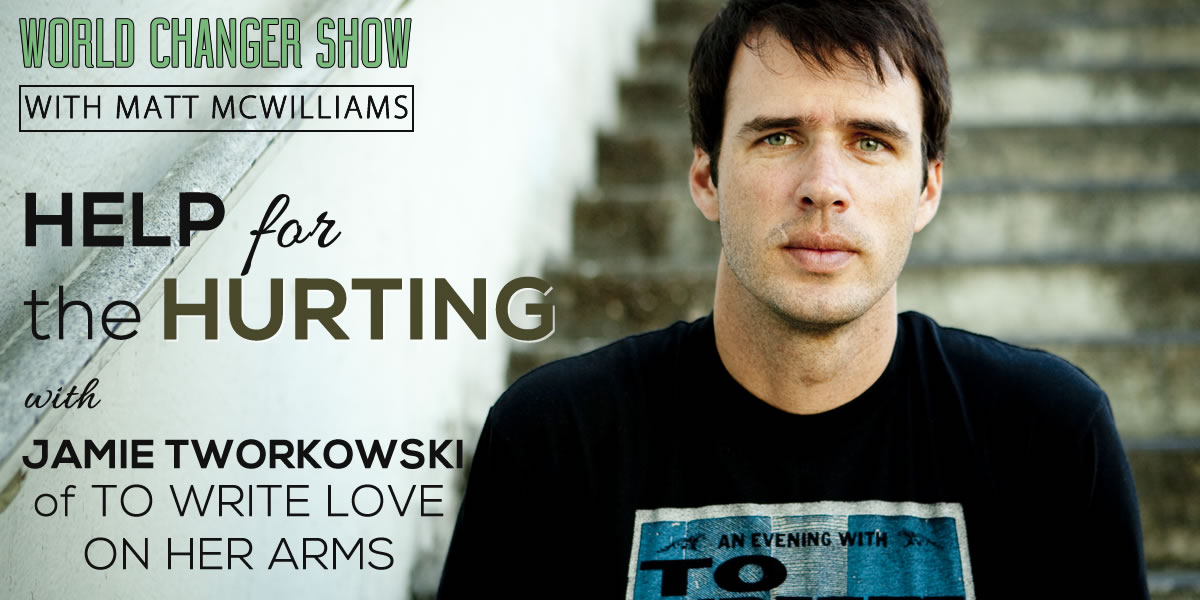 Today's Topics
In today's episode, our guest and I talk about:
Writing when you aren't a writer
The importance of telling a story
Jamie's transition from surf company salesman to Non-Profit leader.
How To Write Love On Her Arms is helping those who are hurting
About Today's Guest
Today's guest is the founder of To Write Love on Her Arms (TWLOHA), a non-profit movement dedicated to presenting hope and finding help for people struggling with depression, addiction, self-injury, and thoughts on suicide.  TWLOHA has one of the largest online audiences of any non-profit (2.5 million) and he has been interviewed by NBC Nightly News, CBS's Sunday Morning, and Rolling Stone magazine, among others.  He is the only non-musician to win an MTVU Woodie Award.  He speaks frequently, telling the TWLOHA story and encouraging audiences at universities, concerts and music festivals.
Listen to This Episode
Watch This Episode
Episode Links and Resources
POST: Oh Captain, My Captain: The 2 Greatest Lessons I Learned from Robin Williams
PODCAST: Episode 91: Harnessing the Power of Your Authentic Voice with Todd Henry
WEBSITE: To Write Love On Her Arms
MOVIE: To Write Love On Her Arms, the movie
HELP: 24-Hour Helpline and links to local resources
HELP: Suicide Prevention Hotline
Contest
Text "WCSGIVEAWAY" to "33444" to enter to win a FREE Copy of Jamie Tworkowski's book, If You Feel Too Much or Click Here
Matt's Pick of the Week
Quote
"The stars are always there but we miss them in the dirt and clouds. We miss them in the storms. Tell them to remember hope. We have hope."
Ask Me a Question
If you have a question, comment, thought or idea, you can leave a voicemail for me or contact me via email.
Subscribe to the Podcast
Share the Love
If you enjoyed the show, please rate it on iTunes and write a brief review. That would help tremendously in getting the word out and raising the visibility of the show so that we can inspire other World Changers just like you.
Next Episode
In Episode 96 we talk about something that is all too prevalent in today's society…burnout, and how to overcome it. If you've ever felt burned out, worn out or just beat down by life, you won't want to miss this episode! 
How will you tell your story this week?