Do you want this year to be your best year ever? Who wouldn't? Who actually started out this year saying, "You know, 2018 was as good as it gets. I really can't beat that." No one. We all want this year to be our best ever. And for next year to be better.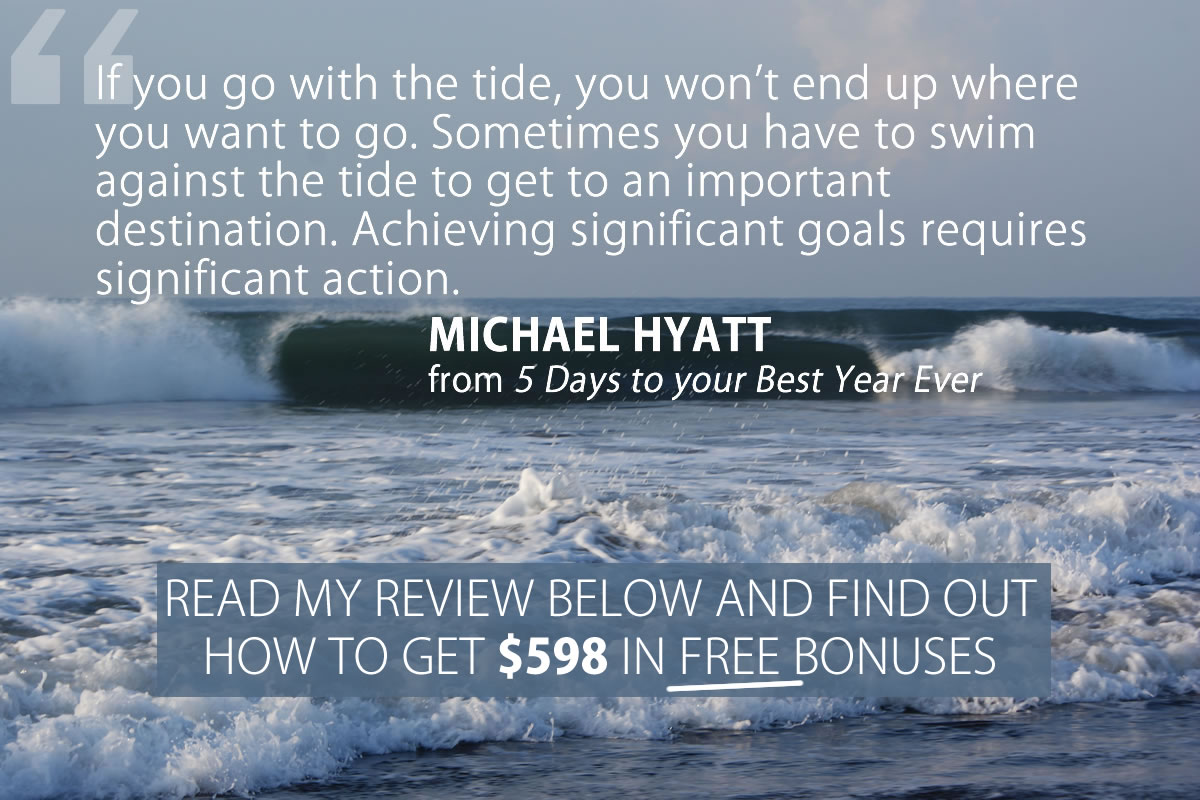 UPDATE: Since originally writing this review, I've had more than a three years to process the information in the course. Here's a quick update: In 2011 I was fired from a good, high-paying job. In 2014, in part thanks to Michael's course, I paid more in taxes than I made in all of 2011. Do I believe in this course? You bet! That's why I'm offering some killer bonuses worth $598 below.
Everything is at stake
Michael Hyatt said something recently that convinced me to give his 5 Days to Your Best Year Ever course a try:
Everything is at stake by not seeking transformation now.
Everything.
And he's right.
If you waste one day, that might be the day that changes your life. One missed opportunity might set you back a week, a month, or even a year towards achieving your goals. It's time to do something different. It's time to invest in your best year ever.
NOTE: When I say "invest," I explicitly mean "spend money." Read below to learn how to save on this course and how to get $598 in free exclusive bonuses from me.
Taking the leap
So I decided to take Michael's course. Like you, I wanted this to be my best year ever and I knew I needed help.
I could have written this six minutes into the first video to tell you that it's worth twice the asking price. But I decided to keep going, of course.
What I found is that I am not atypical. I thought I was the only one not living up to all of my dreams. Have you ever felt like that?
Good intentions
We all set goals with good intentions. That's the easy part. We all really do want to make more money, be healthier, pay off the house, and take that dream vacation. And we want to do it this year.
But it's so easy to get off track as days turn into weeks and weeks turn into months…and then the stores are playing Christmas music as we look back on the year with regrets.
We get lost in the day-to-day and lose focus. We lose sight of our goals. And maybe, we give up on all goals as a result. I know because I've done just that before.
So let me ask you this question:
What would your life look like if you achieved your goals this year?
What would that make possible?
Do you want to start that new company? Run that first race? Write that first book? Pay off those debts? Be a better parent or spouse? Make a new friend?
And how would it really feel to accomplish those goals? To look back on December 31 and say:
I did it!
Take a minute to imagine what that looks like.
That's what Michael's course will help you do.
Not might help you do. It will. He guarantees it. Literally, with a 30-day money-back guarantee.
I want this to be your best year ever. And I know this course will help you.
It's worth twice what Michael charges. But I also want to show you just how much I believe in this course, so I am offering$598 worth of exclusive bonuses from me.
Once you're in, you will have instant access to:
All five course modules. You'll be able to download the audio for each one so you can put them on your smart phone, iPod or MP3 player.
Workbook and Action Plan. I suggest reviewing this throughout the year to keep on track.
Accountability in a Box. If you ask me, this is the best part. Support each other, gain encouragement, and make new friends by building a support community that lasts throughout the year.
Amazing bonuses. Here's a little secret…there are bonuses in the course that Michael doesn't even tell you about. I've probably said too much already, so just know they are awesome. One of them in particular is actually worth the price of the course alone. But Michael's bonuses aren't the only ones…keep reading for some very special, exclusive bonuses from me.
I know I said it before, but it deserves repeating…there is absolutely no risk to you. If it doesn't work for you, tell Michael and he'll give you your money back. No questions asked. And trust me, he is a man of his word.
I believe it might just be the best investment you'll make in yourself this year.
Make this your best year ever. But don't wait. You can only get this course through December 19 at 11:59 p.m. PST. After that, the course won't be available for a year!
This really will be the year that changes everything for you. You will change your life, the lives of your friends and family, and literally change your family tree.
But you've got to take the first step.
Register here and get $598 worth of exclusive bonuses — and let's make this year your best year ever.
Exclusive Bonuses
Alright, I've mentioned some other bonuses…it's time to spill the beans. If you go through the link above and purchase Michael's course, you'll get two extra bonuses from me. They are exclusive to my readers.
And yes, even if you return Michael's course for a full refund (you won't), you get to keep these two bonuses valued at $598.
Bonus #1 – Destroy Your Limiting Beliefs Self-Coaching Guide – $399
One of the biggest obstacles to achieving your goals is your limiting beliefs. There are four types of limiting beliefs that you will need to overcome and I teach you how to do so in this self-coaching plan.
Normally, this workbook is only accessible to my private coaching clients, but I know how important it is to conquer these beliefs once and for all so that next year can be your best year ever. Purchase through my affiliate link and you'll get this workbook 100% free.

Bonus #2 – 1 Free VIP Ticket to Networking with Purpose Live! ($199)
Yes, you read that right. If you purchase Michael's course through my link, you'll get a free ticket to my Networking with Purpose Live event in January.
Another common obstacle to achieving your goals and dreams is the right connections. This live online event will show you how to build, grow, and nurture your network to help you hit all of your goals in the new year.
The cheapest ticket for this event will cost $99, but you'll get a free VIP ticket, which gets you access to the live event and a bonus group coaching call two weeks later.
So what are you waiting for? Go make this your best year ever and get all of these amazing bonuses from me and Michael.