Can you believe it? The 4th quarter of 2014 is already here.
For me, that means my busiest season is here. With the Christmas season officially here, my consulting business really picks up.
This is a time to look ahead to a strong finish to the year, but it's also a time to look back on September. There were many things to celebrate and many lessons learned…and as always, I share them all below.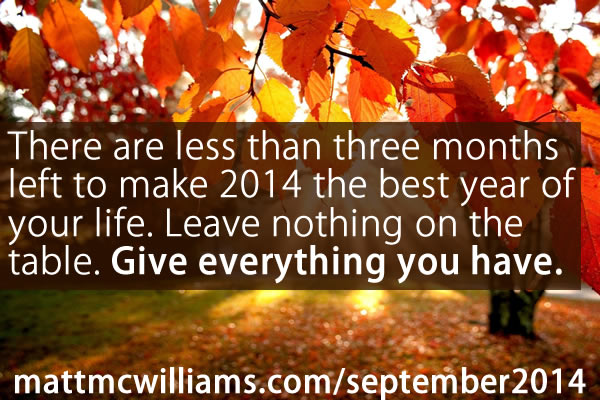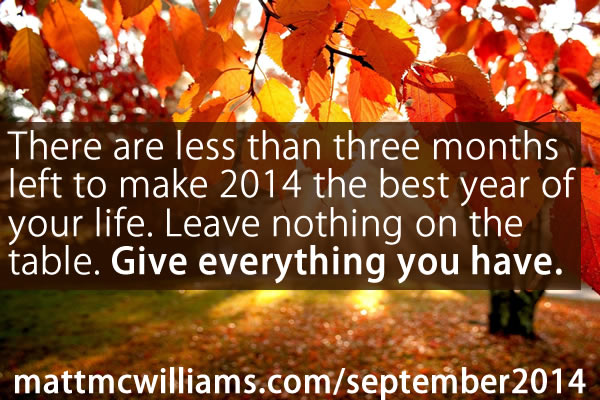 Highlights
1. Podcast Launch
All I can say is WOW.
The World Changer Show launch on September 16 with a bang! Three months of learning, planning, and promoting were worth it. We hit #5 overall in the Business category of iTunes on September 17, only one day after the launch.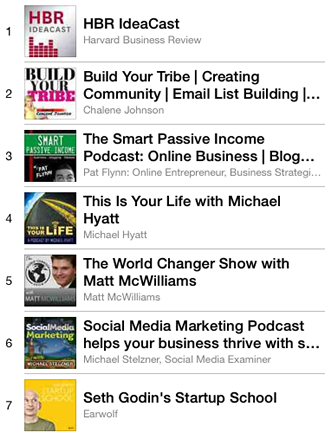 Recently, we have been holding steady in the #2 spot in iTunes' New & Noteworthy for Health and #4 for Business.

Thank you for making it an amazing launch. If you've missed any episodes, you can find them right here (and you can subscribe and leaving a rating and review from there).
2. A great month for the site overall
While September was not a 25th consecutive record month, it was still a great one.
I missed a record month by about 1,000 people, partly due to August being so phenomenal. It was still better than July and I saw record growth in subscribers, so I count it as a win.
On a personal note, eating dinner in the new 49ers Stadium in Santa Clara, home of the 2016 Super Bowl, was definitely a highlight.
Lessons Learned
1. The older I get, the more I care about my legacy.
The word "legacy" has been on my mind a lot lately.
How will I be remembered? What impact am I having? Who will be at my funeral and what will they say?
It comes from three things:
Getting older and realizing more every day that our daughter is watching my every move.
The death of Truett Cathy and thinking about the legacy he left.
A recent trip to my boyhood home in North Carolina where I was constantly reminded of my late father. I write about one encounter here that really hit me.
I never thought much about legacy until two years ago. Now, it's forefront on my mind.
That's one big reason why I do this. Why I write. This site outlives me. It is a powerful part of my legacy.
2. How to pronounce "Iran."
It's "ee-rahn," not "eye-ran." I learned this from Farnoosh Brock, my guest on Episode #5 of the World Changer Show. In the interview we discuss her four steps to overcoming a victim mentality, how to have an abundance mindset, how to get spousal support for your dreams and goals, and so much more. Farnoosh has an inspiring immigrant story, is a successful entrepreneur, and is helping others to live prolifically. She is definitely a world changer.
3. The secret to running a half-marathon 19 minutes faster than last year.
The secret is to run really slow the first year. Last year, Tara and I completed our first half-marathon. Last month, we finished our second. 19 minutes faster than the year before.
Then again, we set the bar pretty low, thanks to me holding her back. Next year, my goal is 20 minutes faster than this year.
Let the training begin!
Top Posts
My top posts in September were:
Interviews
I was honored to be interviewed multiple times in September, discussing a wide range of topics. Here is the only one that aired in September:
Jacques Van Heerden: In this interview, we talk about my journey and how I got into the consulting space, how I realized what I wanted to do with my life and how the World Changer tag stuck with me.
Top community members – win a t-shirt
This blog is all about you. The best part, admittedly, each month is the comments that are left by awesome people, like the top ten commenters from September
The top ten community members each month are entered into a drawing for a free WORLD CHANGER (JUST LIKE YOU)™ t-shirt. So, make sure to leave as many helpful comments as possible and you just might win the next one. Below the list is this month's winner.
And wouldn't you know…#10 wins this month. Congrats to Darin Sargent for winning a t-shirt.
4th Quarter Living
There are less than three months left to make 2014 the best year of your life. No matter where you are at with your goals, you still can.
Leave nothing on the table. Give everything you have.
Let's do it! Are you ready?
What was the highlight of your September?