Your subconscious mind doesn't understand the word "don't."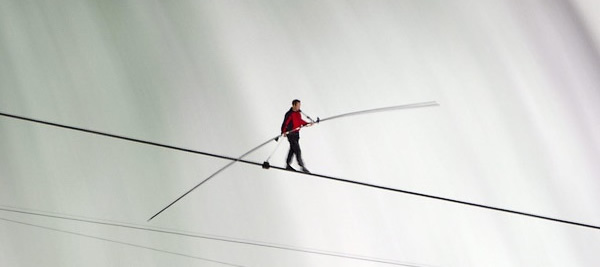 To illustrate, don't think of a warm, piping hot pizza.
What did you just think of? There is a good chance your mind pictured the details right down to the bubbling cheese, oily pepperoni, and steam rising from the surface. (Now, if you'll pardon me, I need a snack…and by snack I mean large artery-clogging feast)
Never Look Down
I recently read a story about a tightrope walker who was asked about the secret to his success. His reply applies to achieving any goal in life:
The secret is to keep your eyes fixed on where you are going. You never look down. Where your head goes, that's where your body is going too. If you look down, there's a good chance you will fall. So you always have to look to where you want to be. (emphasis mine) From Become a Better You by Joel Osteen
Looking down only identifies where the tightrope walker doesn't want to be. Immediately thoughts such as "don't fall" go through his mind. That usually leads to a whole range of visions that play out in his mind…and ultimately an ugly fall.
What Water? A Lesson from Golf
When I was 16, my dad bought me a book that forever changed the way I look at the mind. It eventually led me to being a psychology major (for two glorious semesters) in college.
The book was Golf is Not a Game of Perfect by Dr. Bob Rotella, a legendary sports psychologist. That book introduced me to the concept that the subconscious mind doesn't process the word "don't."
The example he used in the book is the golfer who thinks, "don't hit it in the water left." The mind translates that immediately to an image of the ball traveling left, into the water. Taken to the extreme, some players (I was among them) would take the visual so far as to imagine the exact ball flight and resulting disappointment with the shot.




As I read the book, I imagined one particular hole at my home course, with water all down the left side. I picked a specific target in my mind without even playing the hole. I clearly saw the ball landing there. I rehearsed that shot repeatedly in my mind.
When I played that hole, I never saw the water. I never realized how narrow the fairway was until look at it on a satellite image recently.
Sure enough, though I played the hole more than 200 times after reading the book, I never hit it in the water. In fact, I hit it within 50 feet of my target close to 100% of the time.
Even at my skill level, statistically I should have hit 10-15 balls in the water on that hole. But not one ball ended up there.
All because of a clear, powerful, and positive vision of the result I wanted.
Have you let "don't" cause you to do the very thing you wanted to avoid?
Two other posts related to this topic: Be a Furniture Mover – Visualize and Rehearse Success and Leaders, You Are What You See, Part One and Part Two