Thinking of buying Stu McLaren's TRIBE? Make sure to read this first. You'll kick yourself later if you don't. Full review and more than $2,590 in bonuses below.
So…the big question…what's up with Stu McLaren's new course, Tribe? This review will answer many questions you have.
First off, a full disclaimer: I am an affiliate for Stu's course and I consider Stu a friend. But, to be clear, that does not affect what I share below in any way. It does mean that if you purchase Stu's course through my link I'll get a small commission (gotta love capitalism, right?). It also means that if you purchase through my links in this review, you will earn access to my exclusive bonuses, worth more than $2,590. These bonuses are not available anywhere else. <<Skip to the bonuses>>
Ok, now that we've got the boring disclaimers out of the way, onto the fun stuff…here's my full review of Tribe from Stu McLaren. You can either watch the video or read the review below.
What's Good about Tribe?
1. Stu McLaren is the real deal
Stu's resume speaks for itself.  The guy is a near legend in the internet marketing space.  As a matter of fact, he's one of the guys that I've looked to for several years when it comes to entrepreneurship and internet marketing.
His client list reads like a red carpet event for internet marketers — Michael Hyatt, Ruth Soukup, Donald Miller, Jeff Walker and many more.
All of that is to say, Stu is putting out an incredible product, you can bet is top notch…as a matter of fact, if I wasn't convinced, I probably wouldn't be writing this review!
2. Unparalleled Research
Tribe is a completely tested and proven system.  The course is based on the best practices of over 60,000 membership sites and online communities (yes, you read that right — six-zero-zero-zero-zero — 60,000!!).
If you weren't aware, Stu McLaren created WishList Member, which is one of the most successful membership plugins ever…so yes, Stu knows just a little bit about what works and what doesn't work when it comes to creating a successful and profitable membership site.
Oh yeah, and he also helped Michael Hyatt grow his membership site, Platform University to over 6,000 members in just a few years.
Stu has HUGE amounts of research and backing that goes into the system he teaches in this course.  It is proven to a point that I don't think any other first-time course has EVER been proven!
3. Unmatched Support
I love how dedicated Stu and his team are in making sure that those who buy Tribe are supported every step of the way.
I mean, just look at the support they provide just for the free videos Stu offers.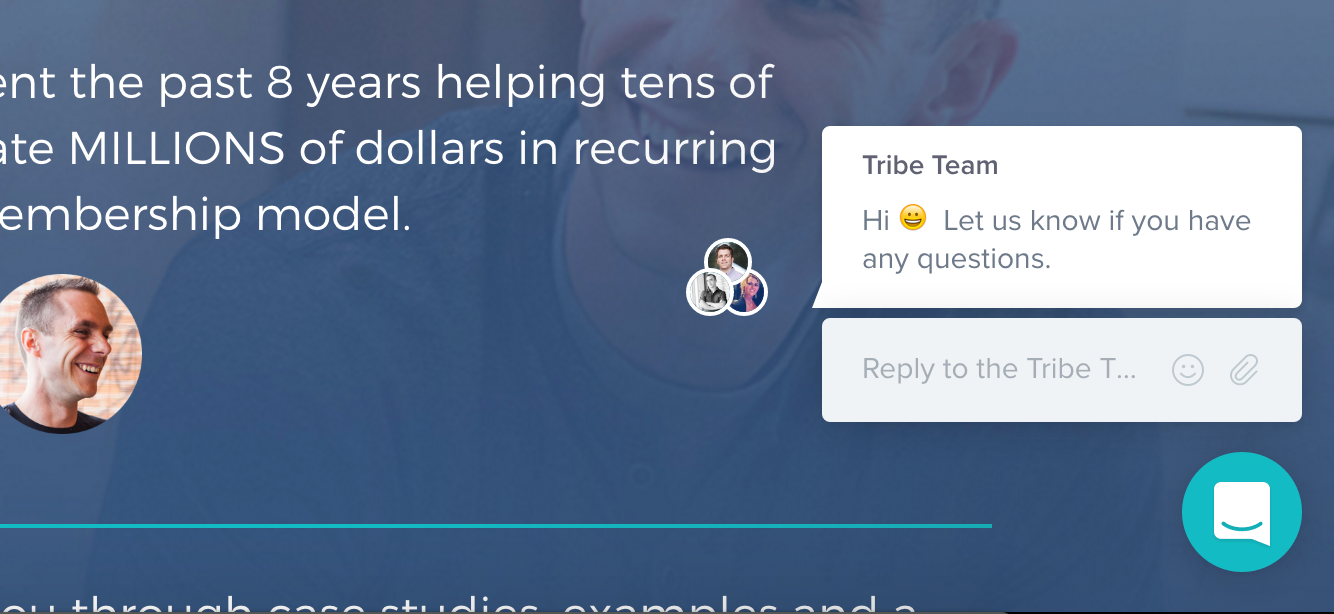 Seriously…that level of support isn't available inside many paid courses…let alone for the FREE resources before you purchase a course!
Here's some of the other support that you'll receive within the Tribe course:
Search feature that allows you to find a specific topic across modules, support topics and other resources (seriously, that is cool!)
All NEW TRIBE Progress Coaching so you can get your questions answers as you are working through the course by a real member of Stu's team!
FAQ Vault.  I don't know about you, but when I hear "vault" I get the impression that they've spent a lot of time compiling a TON of questions and answering them to help you get the most out of the course!
Community. You will have access to the Tribe Community, where you can ask questions, get feedback and support other course owners — and, of course, Stu and his team will pop in there as well!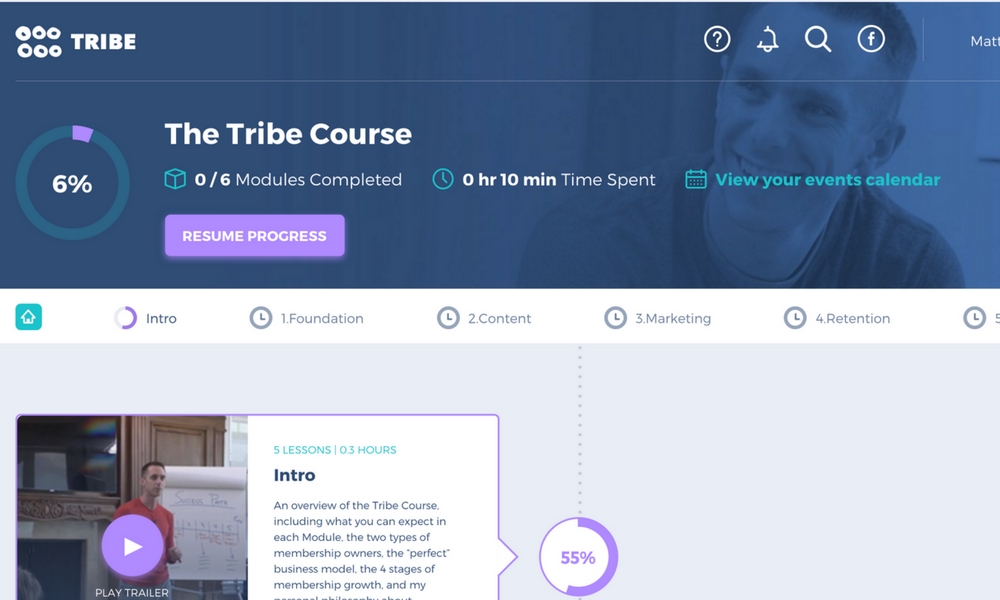 What's NOT Good About Tribe?
1. Still a Relatively New Course
Stu's Tribe has only been around for a few years. This means that there aren't tens-of-thousands of people who have gone through the course. But, there have been thousands of successful students who've taken their side business and turned it into full-time income.
Stu has taught and implemented the techniques he teaches in this course in his own businesses as well as with his personal consulting clients with great success (see above…).  You'll find testimonials from people he has worked with readily accessible on his site. So yeah, this is a "downfall"…but not really when you consider the framework he teaches he learned from studying (literally) tens of thousands of membership sites.
2. There's Almost Too Much Good Stuff
This isn't a "not so good" part of the course necessarily, but the overwhelming amount of research that has gone into what Stu teaches, as well as his experiences with his coaching and consulting clients can be too much if you're afraid of taking Stu's advice step-by-step.
3. I Haven't Reviewed All The Material
This is an honest review, so it is important for me to tell you that I have not looked through all the course content and bonus material myself.
I have, however, been watching Stu for a long time and I can tell you that he never does anything halfway, so have no doubt that Tribe is awesome…in fact, my team and I are currently going through the first part ourselves. And module one is AWESOME!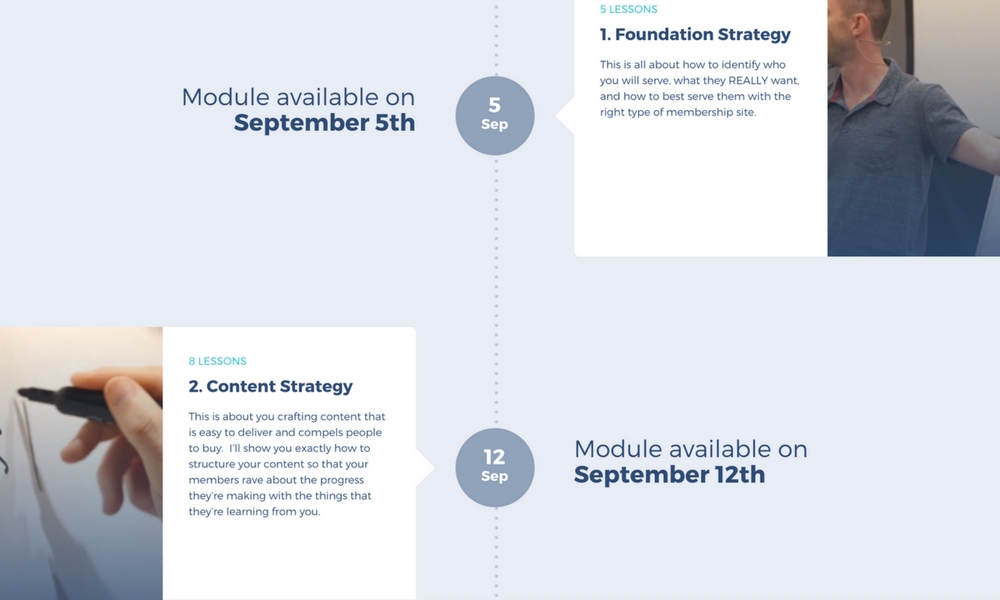 I honestly can't find any other "bad" things about the Tribe course by Stu McLaren — and believe me, I tried.
But Stu has left nothing to chance…it really does come down to whether this course is right for you or not…if it's right for you, then it's awesome.  If it's not right for you, then, well, it's not right for you and you shouldn't buy it!
Who is Tribe For (and who is it NOT for?)
Who Tribe is For
Stu McLaren's Tribe is for anyone who currently has an audience and business or who is looking to start a business and wants to build it in a way that allows them to leverage their expertise without having to be married to their business.
This includes:
Coach

Speaker

Author

Designer

Blogger

Podcaster

Consultant

Expert

Influencer

…anyone else wanting to add a recurring revenue stream to their business
In short, if you are looking for a way to stabilize your business with reliable, recurring income, then Tribe is probably for you!
Who is Tribe NOT For
As with many of the products that I review, many of the reasons that this course would NOT be for you revolve around YOU and YOUR choices.
This course is NOT for you if one or more of the following are true:
You're unwilling to invest the time necessary (5 modules with multiple lessons in each)
You're unwilling to make the monetary investment in the course (as of this writing, Tribe costs $1,997).
You think this is a "get rich quick" plan that will magically cause money to appear in your bank account.
You don't want to grow your business by adding recurring revenue to your model.
You are already a pro at setting up and running profitable membership sites.
In short, if you aren't willing to jump in with a desire to learn from Stu and put the work to developing your own membership site, then I would strongly recommend that you NOT purchase Stu's course.
What is in Stu McLaren's Tribe Course
Module #1 – Your Foundation Strategy
Tribe's first module will help you discover who you are going to serve, how to serve them and how to determine exactly what type of membership site to create to meet their needs.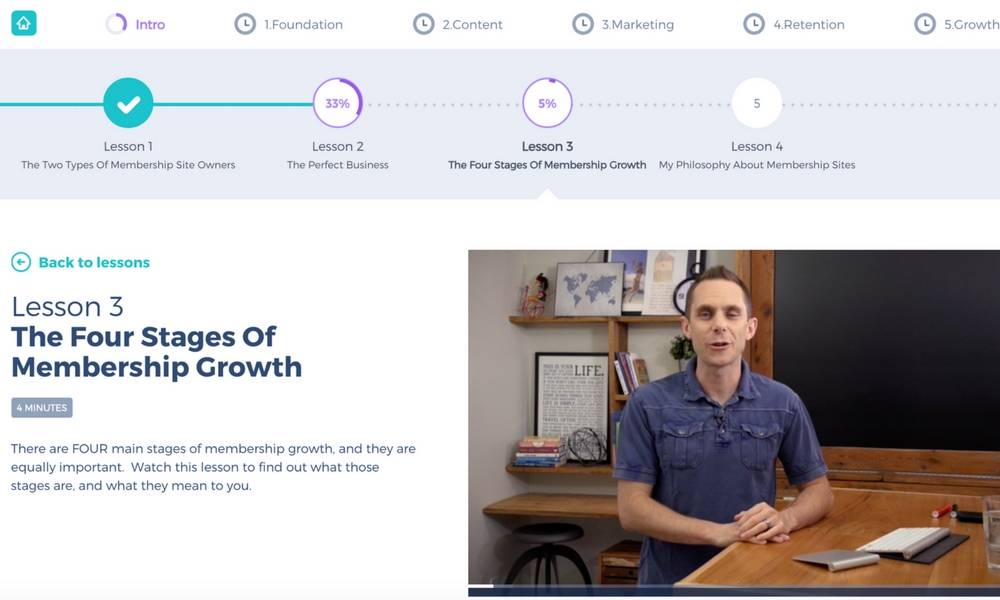 You'll also learn:
The four reasons someone joins any membership site

The two must-have pieces of research you need to know about your market

The six membership models and how to pick the one that's right for you
The "less stress" membership philosophy
As the name implies, this module helps you lay the foundation for a successful membership site!
Module #2 – Your Content Strategy
A membership site wouldn't be much of a membership site without good content.  In this module of Tribe, Stu will teach you:
How to create a year's worth of content in less than a week

The two types of must-have content every membership needs

The #1 reason people cancel their membership
Just those first and third bullet points are enough to make me want to buy!
Module #3 – Your Marketing Strategy
The best membership site in the world is pretty useless unless you get paying members "in the door." That's what this module will teach you to do, including,
Open vs. Closed marketing plans (which is better…)
7 pricing strategies
A proven 3-part launch process

How to position your membership as a "must have" resource

Evergreen campaigns
Wait list promotions
I'm sure this module will cover the tactics Stu used to 6x the size of Michael Hyatt's membership site as well as other awesome tactics!
Module #4 – Your Retention Strategy
This is one of the BIGGEST challenges I've seen with membership sites…how to retain the members your marketing strategy brings in!
In this module of Tribe, Stu will teach you,
The real reasons people stay

How to increase the lifetime value of your members

The 7 actions you want every member taking to ensure their happiness
Membership guidelines and rules
How to use gamification to increase engagement
There is a TON more in this module, and it's one that I'm particularly excited to go through!
Module #5 – Your Growth Strategy
If you're not going forward, you're going backward.  In this module, Stu will show you how to have a plan in place to ensure that you're moving forward and growing!
You'll learn:
The 4 growth stages of your membership

The critical numbers you need to know to scale
How to attract highly engaged volunteers
The roles you should look to hire for — and when to hire them
This module is all about sustainability and making sure that your membership site doesn't rule your life — after all, you're interested in Tribe and membership sites to scale your business, not handcuff yourself to it!
Plus 2 ALL NEW Modules
These modules are so new I don't even have all the details yet. What I can tell you, is that they will help you leverage and grow your membership business like nothing else on the market.
Stu's Amazing Bonuses
Bonus #1 – Gamification Super Guide ($497 value)
The long-term health of your membership depends on your ability to keep people happy month after month. If they are consuming your content and making progress, they WILL stay.
So how do you increase consumption of your content?
That's what this entire mini course is all about. Stu flew in one of the world's top experts who has been working with companies around the world crafting customer experiences that dramatically boost engagement while creating raving fans.
And in this exclusive bonus, they dive deep into the framework for crafting a world class experience for your members.
In fact, after they filmed this bonus, Stu's team was so inspired that they went back to the drawing board to incorporate a bunch of ideas for you! So you'll experience a number of the ideas shared in this bonus from the client side.
Bonus #2 – 7-Figure, Fill in the Blank Launch Script Templates ($997 value)
These are the EXACT templates Stu uses to craft world-class, 7-figure promotions.
The worst thing that can happen from a marketing standpoint is you have this amazing membership but you don't know what to say when it comes to sharing it with the world.
When you join TRIBE, you'll get access to these tremendously valuable scripts that he uses over and over to craft winning, 7-figure launches.
And they've set this up with their custom tool to make it ultra easy for you so that you literally answer a few questions and when you're finished, you have proven scripts.
You'll know exactly what to say to position your membership so people will naturally be drawn into joining your membership.
Bonus #3 – Instant Audience ($497 value)
If you are in the early stages of growing your business, you're probably hungry to gain momentum as quickly as possible – am I right?
But the thing that's holding you back is that you may not currently have an audience that you feel can support a membership.
Hopefully you've seen through the many examples we've shared, it doesn't take a massive audience to begin generating healthy amount of recurring revenue from your membership.
In fact, Stu's team commonly see TRIBErs launching successfully with just a few hundred people in their audience.
And in this bonus, they show you exactly how to build massive momentum from a standing start.
And if you have an existing audience, you're going to be able to leverage this same strategy to biggie size your audience in record time.
Bonus #4 – Ticket to TRIBE Live ($997 value)
Last year, people enrolled in TRIBE just for this bonus – it's that good.
Here's the scoop…
When you join TRIBE, you'll also get a ticket to TRIBE Live. This is an event exclusively for our TRIBE community.
It's their annual gathering of membership site owners from around the world. This event is THE go to event for anyone launching or growing a membership site…
Stu leads the conference by diving into the core concepts of growing a membership – which is all based on your feedback BTW.
The best part is, the event will feature TRIBErs who will be sharing the "behind the scenes" of the incredible results they got in the last few months with their membership sites.
Those who attend come away with a deeper understanding of the concepts taught in TRIBE… and you will too because you'll see and hear examples of applications in so many markets.
It's the creme de la creme of the membership world – all sharing what they did to launch, grow and scale their membership sites in a wide variety of different markets.
Imagine the ideas you'll get.
Think about the potential of hearing ideas from someone in a completely different market and then being able to brainstorm with them on how to adapt it for your market.
It's mind blowing and incredibly inspiring.
In fact, last year, Anna Saucier was so inspired from what she was hearing on stage that she decided to launch her membership right there at the event.
She didn't have any launch videos or webinars. She didn't even have a sales page or order page.
She just used the "founding member script" that was mentioned on stage and in 24 hours she generated $5,024 with her tiny audience of just 326 people.
Amazing right?
What's Risk is There?
This is one of the biggest questions people ask themselves when investing in courses…and probably at least partially why you are reading this review now.  What risk is there in purchasing Stu McLaren's Tribe?
To be honest, next to none.
Seriously.  If you take a look at Stu's track record – first building WishList Member, then consulting with people like Michael Hyatt, Jeff Walker and many more, there is really no question as to his ability to build a successful membership site that is both profitable and sustainable.
Really, the only variable is whether you are going to be teachable and put in the work necessary!
But, still the same, Stu offers a 60 Day Money Back Guarantee.  Most people only offer a 30-day guarantee, so Stu is going the extra mile (or however many more miles you could go in 30 days…).
All he asks is that you send him your work, showing that you have gone through the exercises included in the course…and if you still didn't get the results you were hoping for, Stu will happily refund your money.

(But with all the research and preparation that went into this course, I highly doubt you will go through the course and NOT experience great results!)
Exclusive Bonuses
Bonus #1 – Destroying Your Limiting Beliefs Workbook ($399)
It takes a certain mindset to build a large, profitable membership site – and sustain it! That's why I'll give you the Limiting Beliefs Self-Coaching Guide. There are four types of limiting beliefs that you will need to overcome and I teach you how to do so in this self-coaching plan.
Until this year, this workbook was only available to my private coaching clients. But I know how critical it is to conquer your limiting beliefs in order to do something as awesome as creating a killer membership site. That is why I am giving you this workbook free when you buy Tribe through my link!
Bonus #2 – Access to the Replay of my Networking With Purpose LIVE Event ($197)

If you go through my link to purchase Stu McLaren's Tribe course, you'll get access to the replay of my Networking With Purpose LIVE event that I hosted with relationship rockstar John Corcoran and Mark Sieverkropp.
Getting your membership site in front of a large number of potential members requires the right connections. That's why I'm GIVING you access to the replay of my Networking with Purpose Live event. This live online event replay will show you how to build, grow, and nurture your network to help you launch your membership site.
I share my own experiences, techniques, and connection-building strategies PLUS I invited some of my connections that are networking experts to come and share their techniques and strategies with you as well.
The cheapest ticket was $197 and that was with a hidden, secret promo code. But it is yours when you join Tribe through my link.
Bonus #3 – List Launch Academy ($997)

If you are going to start a membership site, you need a list.
Yes, Stu shows you how to succeed with a small list, but you still need someone to sell to…and the larger your list, the more members you will have.
List Launch Academy shows you how to start, build, and grow your email list from the ground up.
It's a proven system with amazing results. It is currently unavailable to the public (we only open enrollment once a year) and normally sells for $997, but it is yours free when you enroll in Tribe through my link.
Bonus #4 – 7-Figure Affiliate Launch Course ($1,997)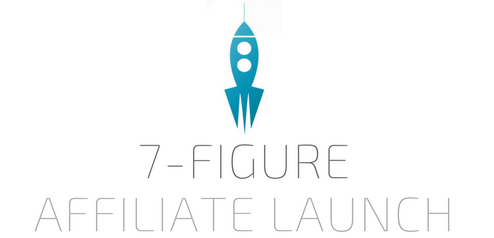 In order to grow your membership site, you will need to enlist the help of others.  There is no better way to expand your influence and reach more people that harnessing the power of affiliates.
In this training which I normally sell for $1,997, I will teach you how to find affiliates to share your message with the people that they know.  The tools and techniques I share in this training have allowed me to recruit thousands of affiliates in several different industries and have made my clients millions of dollars. Clients such as Michael Hyatt, Zig Ziglar, Kevin Harrington, Ray Edwards, Jeff Goins, Lewis Howes, Brian Tracy, and more.
And if you purchase Stu McLaren's Tribe course through my link, you will get this $1,997 course absolutely free.
So now that you've read to this point, there is really only one question…
What are you waiting for?
Click Here to purchase Tribe from Stu McLaren and get ready to create reliable, recurring income in your business!
Questions: Call me at 317-825-8826