Start today. Start where you are. Start on what matters to you. Those were my marching orders after reading Jon Acuff's new book, Start. (You can read a full review of Start here)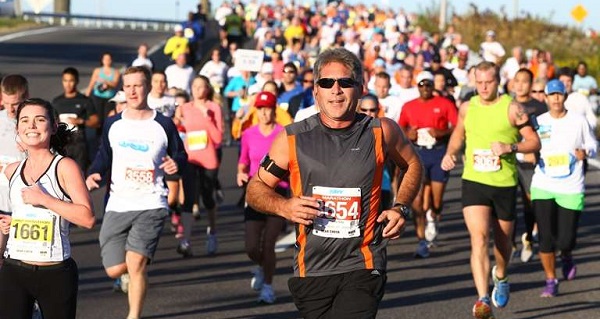 I'm running a half-marathon later this year. My goal time is 2:08:00. For me, that is fast. About 1:00 per mile faster than I ran a 10k last fall. It's going to be hard to accomplish that.
What if?
As soon as I committed to running, my thoughts drifted to:
"What if I finish last?"
"What if I don't finish at all?"
"What if my training is disrupted by sickness, work, or…life?"
Then it occurred to me…what if all of those things happen?
Let's say I get sick and miss two weeks of training. As a result, I begin race day having only run 11 miles on my best day. At the 11-mile mark, I have to stop and walk for a minute. Then I keep going…slowly. I finish last. I miss my goal by thirty minutes.




What if all of those things happen?
I will still have run farther (11 miles consecutively) than most people will run in their lifetime. I will have trained by running as much as twenty-two miles in a week. I will have lost a lot of weight and improved my stamina. I will be healthier, happier, and ready for the next half-marathon, where it will be much easier to hit my goal time.
Because I started.
That is what Jon reminded me to do in his book.
He reminded me to Start. To dare to take the first step without knowing where the second step will lead.
The idol of results
He reminded me to keep the end in mind (a la Stephen Covey's The 7 Habits of Highly Effective People) but not to make it the only acceptable destination.
He reminded me not to worship the end or make results my idol.
I will boldly go where I have never gone before…even if I have no idea where that will actually be.
The first step
Start today. I took the first step.
Start where you are. It was cold, so I ran on our treadmill.
Start on what matters to you. Being healthier? Check. Pushing myself? Check. Raising money for a good cause (more on that later)? Check.
I may run a half-marathon in 2:08:00 or less. I may run it in 2:38:00 or more. I might limp across the finish line. Or I might blaze through like Steve Prefontaine.
Regardless of the outcome, I have started the journey. That is the hardest part…and the most significant.
Thank you Jon, for reminding me to:
Start today. Start where you are. Start on what matters to you.
What have you put off that you can START today?