Thank you for making the past two years amazing.
Tomorrow marks the two year anniversary of me starting this blog. I realize that most of you reading this haven't been here that long. One of my favorite parts of doing this is welcoming new members to the community every day.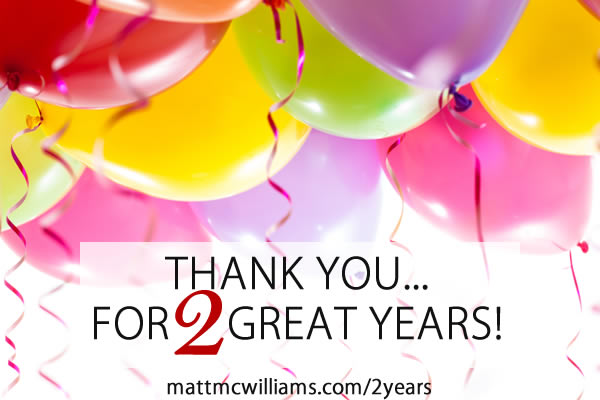 Every year, I revisit my inaugural post, entitled Beginnings (Or…The Declarations of a Failure). It's an important exercise for me to look back to how it all began and to reconsider my original thoughts. After all, our greatest lessons in life come from studying our past.
Two years ago tomorrow, I launched my blog for that very reason. To learn from my own past and to share my life, my failures, my successes, my heartaches, and triumphs with others. They are all a part of my learning.
I originally declared, as you will read below, that "I am a failure." I didn't mean it in a "poor me" way, but rather an "I'm okay with that" way. However, I've since learned that my declaration that "I am a failure," was misguided. It was wrong.
I am not, nor will I ever be a failure. I am a world changer. I am a history maker. And so are you.
But my life is full of failings. And the great thing about present failure is that it leads to future success.
The great thing about present failure is that it leads to future success.
If you're new here, the post below is how it started. This is what my blog is all about.


How it all began
I am a failure.
And I am not ashamed or discouraged by that fact. I recently learned the art of failing forward. I realized that my life is a textbook, a history book of its own. And much like we learn from studying the history of others, our greatest lessons come from studying our own history.
Our greatest lessons come from studying our own history.I am a failure in life. Life is a pretty big deal, you know. And I have repeatedly failed at it."It" is not so easily defined but when I looked at what defines a life I came up with only three aspects: influence, impact, and integrity.Do others follow me? Have I led others in the right direction? How have I used my influence?Have I inspired those around me? Have I left my mark on the world and am I leaving a legacy? Have I made an impact?Have I remained honest and faithful to my Creator? Have I stayed true to my beliefs? Have I maintained my integrity, come hell or high water?I am sure there is more to life than those three things, but for me those are the core of my being and the reason for my existence.Life, Leadership, and Love. Those are my major areas of experience and failure and the focus of this blog.I have started three businesses of my own, worked for many others, and even been fired by my own father. I have been to the top, to the bottom, and spent countless hours trying to figure how to get to the one and avoid the other. I have held trophies and awards with the same hands that have been handcuffed. (You can read more about that here)I am a follower of the One who made me and the One who saved me first, a husband to an infinitely patient and faithful wife second, and a father to an adorable daughter third. Beyond that I am a lover of business, marketing, leadership, and learning. I am enamored with the pursuit of personal growth, influencing others, and changing the world. One business, one husband, one father, one leader at a time.Welcome to a journey of discovery. Of life. Of leadership. Of love. Learned the hard way.How have you found success in learning from your failures?