You've reached the end of your rope. You're burned out on your chasing your dream. It used to fill your life with excitement and promise. Now feels like it's sucking the life out of you. So what do you do when you're burned out with your dream?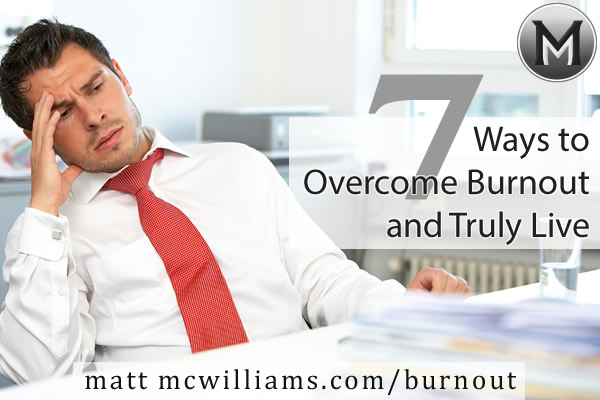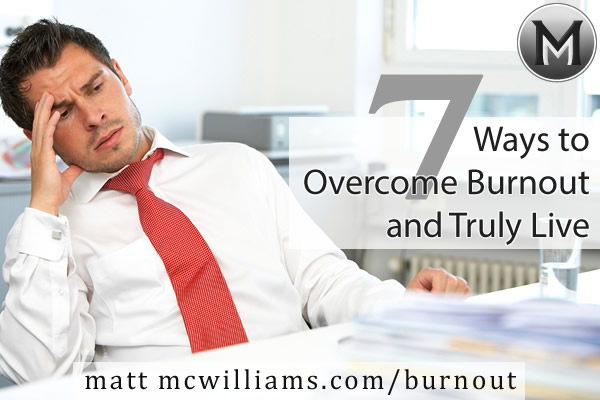 I received an email from a friend recently who was burning out. My friend is a dreamer and a go-getter. He works hard at his day job and hard at his dream. He wakes up early and goes to bed late. And in between he hustles.
And I know something about him that sometimes he forgets, like we all do. I know that it will be worth it and that he will achieve great things.
But right now…this is how he feels:
I feel like I'm getting close to burning out.

I've been completely worn out the last week, had several days where I'm just in a horrible mood (with no apparent reason).

I'm just exhausted and catch glimpses of being really negative and depressed about things. Maybe it's just the weather, I don't know.
Have you ever felt that way?
Completely worn out? Drained? Negative? Depressed?
I certainly have. So I shared with him what's worked for me.
7 Ways to Overcome and Avoid Burnout
1. Plan a week off.
This sounds simplistic, but it's necessary. Either plan a week off from everything (full-time job and side/dream job) or just the dream job.
Sometimes you need to escape the grind and relax. If taking time off from your full-time job is impossible, just take a week off from the side stuff. Go to work, then come home and focus on your family when you are home. Sleep in and go to bed early. Watch a few movies. Enjoy the entire weekend (and if possible, take a three-day weekend).
Notice I did not tell you to "take" a week off, although you eventually will. I wrote "plan" a week off. That means in the future.
The reason for this is you will get a double benefit. Just looking forward to the time off is as effective, or even more effective, than the time off itself. So, plan it for 2-4 weeks in the future. That also increases the chances that you can get the time off from work.
2. Keep time off simple.
My friend argued that his time off would not be very effective because he "wouldn't be able do anything but sit at home." His wife wouldn't be able to get the time off at the same time as he would.
What's wrong with sitting at home for a week? I did that for two weeks recently. I didn't work for 16 days but we didn't go anywhere. It was very relaxing and definitely served the purpose.
If you have kids, take them to school every day and pick them up. Meet your spouse or some friends for lunch every day. Have dinner ready when your spouse gets home so neither of you is rushed at dinner. Take one week where life just moves slower.
3. Eliminate something from your schedule. NOW.
Look at your schedule for the next two weeks. Take inventory of the things you do on a daily basis.
Then find something to eliminate. Immediately. I don't care what it is, within reason. Preferably, it would be the task or project with the lowest return on investment. Perhaps it's eliminating Facebook or the one self-improvement class that isn't working out so well. Maybe, for you, it's eliminating Twitter after 7pm to spend a few extra minutes with your family. Or, as I did, reading one less business book per month. That freed up 30 minutes each week for family time.
Make a conscious decision to sacrifice something for your family, your health, and your sanity.
Use that time to sleep more or just relax.
4. Create a daily ritual with your family. 
Find something to do with your family that you:
A. Rarely miss
B. Look forward to
It could be reading together at night or playing a quick game. It might be that each day, father and son enjoy a dessert together while you talk on the porch.
It doesn't matter what it is, but it should be something that you are excited about and rarely, if ever, miss. This will get you through the daily grind and assure that you spend time on the most important things.
5. Family date nights.
Each week, have a family date night.
It doesn't have to be elaborate or expensive. Most of ours cost less than $20 and are fairly simple. But it's 2 hours each Friday that I look forward to, as do Tara and Aracelli.
Make family date night something special. For us, it's going out to eat at a place that Aracelli likes, followed by a family shopping trip. Once a month, we eat dinner while watching a movie, something that we never do otherwise. It's always a special treat to eat in but not cook and laugh together at a movie.
If you don't have kids, skip to #6. If you're not married, keep a consistent fun night with your friends or siblings.




6. Get out with just your spouse.
Family date nights are important, but a married couple needs alone time.
You need time where you can reconnect and be romantic. At least for me, very little fills up my energy reserves like spending some time out with just Tara.
And since we need someone to watch Aracelli, it means we have to plan in advance, so I get the added advantage of having something to look forward to! (see this post for why that is so important)
7. Take an afternoon off.
If all else fails, get off for an afternoon and just enjoy it. No agenda. Just fun.
Take the kids for ice cream. Watch a matinee. Test drive your dream car. Go for a walk or sit in a coffee shop.
Regardless of what you do, you need that time.

Action item: Pick one of these tips to implement today. Eliminate something from your schedule, take some time off, or create a family ritual or date night. Pick just one for now.
There you have it…7 ways to help overcome
and avoid
burnout. They are great for getting you through the tough times, but even better when you use them proactively.
What are some ways you overcome and avoid burnout?