It's the holiday season and I'm having a little holiday party with some of my top affiliate manager friends. Their going to reveal their top strategies for running successful affiliate programs during the holidays.
Click Here for The Written Transcript of This Episode
NEW EPISODE: "Book Launch Party: An Interview with Matt About Turn Your Passions Into Profits" Listen here now!

Links Mentioned in this Episode
The Ultimate Guide to Holiday Affiliate Marketing Promotions
Don't Miss An Episode – Subscribe Below
Previous Episodes of The Affiliate Guy
What Top Affiliates are Doing This Holiday Season
Overcoming 5 Myths About Holiday Affiliate Promotions
7 Holiday Content Ideas for Affiliate Marketers
7 Things Your Affiliates Need During Holiday Promotions
How to Stand Out as an Affiliate During the Holiday Season
Holiday Affiliate Guide Pt. 1: There's More than Just Black Friday & Christmas
Top Affiliate Managers Reveal Their Holiday Strategies
Hey, so welcome to our last, our eighth episode. Our last one in this series is here on holiday affiliate promotions. I hope you've gotten a ton out of this, whether you're only in affiliate or whether you're only in affiliate manager, whether you're both, I hope you've gotten a ton out of it.
So today I invited some friends just as I did in the last episode. If you missed that, I talked all about affiliate strategies, but I invited some affiliate managers, friends, some other legends in the industry to reveal their holiday strategy. So they're going to share their strategies for running their affiliate program effectively during the holidays,
I invited them to do this and thought it'd be fun. And they ended up blowing me away. I learned a ton. So I'm excited about that. I've also got some clips from some past episodes sharing some of my top strategies. So this is a little clip show if you will so to speak. Anyway, no further ado. I hope you enjoyed this episode.
I hope you get a ton out of it. I hope it helps you to run your affiliate program. Well here over the next few weeks and really throughout the year, because these strategies are evergreen and applied to all kinds of holidays. So hope you enjoy it. Let's dive right in with our first tip.
Hello, this is Janine Crooks. I'm the partner acquisition and development manager at Awan US. We own the Awan and Share A Sale affiliate networks. I've been in the industry for over 20 years. So I've seen quite a few Q4 best practices. I wanted to share my number one strategy for making the most of your holiday sales and that is maximization is the key.
It's vital that you study each aspect of your affiliate program to maximize the opportunity. Start by identifying and reaching out to your top publishers to ensure that everything has been checked and double-checked make sure all the links are working, that your publishers know about your best offers and have the creative and coupon codes they need. For your best publishers, even consider offering exclusive coupon codes or paying to boost exposure on their sites. Many may have affordable ways to place a special banner. Be included in an email, get the top listing on a page, or garner an exclusive blog post. When you already know that these publishers are top performers, the risk-reward ratio on these types of activities is quite low.
Since affiliate marketing is performance-based, leverage that encourages additional promotion during the holidays, consider promoting a special bonus based on any of your key metrics, whether that's the number of sales, total sales volume, or average order value. This is something any affiliate can participate in. In fact, I often suggest having two types of promotions, one for the larger publishers and another for your smaller program members. The key here is to have something that they perceive as winnable, something that they feel like they can achieve. If they just put in some extra work on your program.
Want to learn how to make passive affiliate income from product review posts? Get my free guide on how to write a review post that ranks and converts and learn how we bring in more than $10,000 every single month in passive affiliate income! Get it here!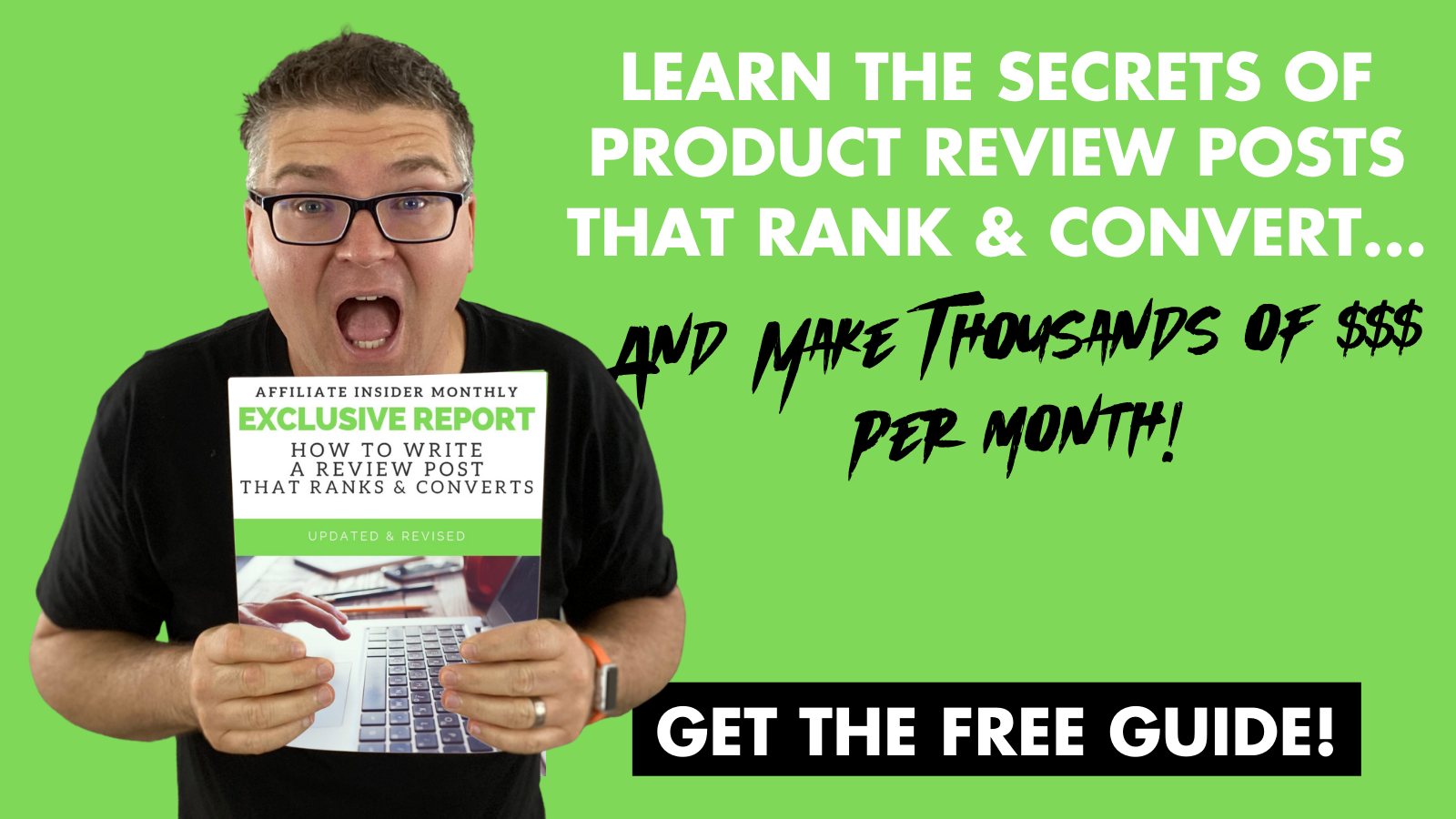 For the smaller affiliates, maybe it's something like three sales or five sales or a bonus on all sales, over a hundred dollars. Something that they know they can do, something that's not designed only for the big guys to win where the smaller side simply can't compete and announcing this now also gives them time to put everything in place to win before the busiest time of the buying season. Maximize your communications with your affiliates too. Remember they are your partners, and as such, they could work best with you if they know your plans for the holidays. While I understand that maybe you don't want to say what your special deals will be yet.
You can at least share with them that you'll have deals on product categories or even special items. Tell your affiliates if you're going to have special deals for Black Friday or Cyber Monday, your small business Saturday, especially tell them if you're going to start holiday pricing earlier than black Friday, with all the supply chain issues and inflation, eating up. Some folk's incomes, many merchants are starting their holiday promotions in mid-November, rather than waiting for the end of the month. Maximize alerting your affiliates and your customers about anything which is in short supply, or could be delayed in delivery. After 2020 consumers understand that some things may be hard to get like electronics or fitness equipment, but they'll still buy even if it's delayed, as long as they're kept informed.
Trust your affiliates to help spread the word on your behalf and send out updates at least weekly about any issues and supplies or delivery, making it feel like a team effort to work together on this and that energy will carry over to the consumers as well at Awan and Share A Sale. We expect Q4 2021 to be spectacular. We hope it is for you as well. Both networks have additional tips and tricks on the awan.com and shareasale.com blogs wishing you a fantastic holiday season. I'm Janine Crooks.
Hi, this is Stephanie Robbins with Robinson Interactive, a niche affiliate management agency focused on health and wellness brands. My number one tip for having a successful and profitable holiday season is to have as many assets as possible for your affiliates, as I'm sure this is an incredibly competitive time in the industry and you will be competing with a lot of brands with really big budgets. So my intent is to make it as easy as possible to promote my brands by going beyond banners and deals.
I offer everything from social media-sized images, videos, customized discount codes, HTML, email templates, landing pages, just as a few examples. I also create campaign asset pages that include topic ideas such as niche gift guides that would work well with my brands. This way I'm providing everything in affiliate means to be successful or at a minimum, get the ball rolling for their campaigns.
Hi, my name is Rick Magennis from Bear Cat Media. We are a full-service affiliate program management agency, and I am also the host and owner of the Rick Magennis show podcast, where we talk about all things affiliate program management. Today, I am going to share with you my number one tip for brands to make this the best Q4 ever.
So when I talk to brands and clients about increasing their sales for Q4, the number one thing I do is recommend allocating some additional budget to the affiliate/partner program. But also what I do is ask them to not only allocate more budget but to use that budget, to get into gift guides in content that is going to be searched during the holiday season so that they can make the most of it.
The gift guides are, are a very important piece to many brands Q4 sales, and I cannot stress it enough that it is a tremendous opportunity to get in front of a large number of customers, but also start a relationship with an affiliate that you may be working with for years to come.
It may start out as an inclusion or gift guide, and it may generate a significant amount of revenue for you, and then starting in Q1 and beyond it can blossom into something more, but the gift guides are very important because it puts your brand and your products in front of eyeballs that may have never even known about your brand or even considered your brand. So taking that budget that we talked about earlier, we took some budget and allocated it more towards the affiliate program.
Use that to get into some of the larger gift guides or the more established affiliate gift guides so that you can make this the best Q4 ever. I've seen this year in and year out work tremendously with not only my clients but other brands as well. And what happens is every year that you do this, the affiliates we'll keep coming back to you asking you for inclusion.
And then that just builds that relationship, which affiliate marketing is all about, but it's going to pay dividends for not only the affiliate but for you as the brand. And again, I can't recommend this strategy enough, and I wish you the best of luck this Q4 and holiday season and I hope to talk to you guys soon.
Hi, this is Kelly Ground, the head of an affiliate and brand strategy from the premier global partner marketing agency, Acceleration Partners. I want to share my number one strategy to drive profitable sales this holiday season. Affiliate marketing is one of the most profitable marketing channels in the industry because we're able to pay partners on a CPA and only pay if an action occurs. That means right now with the supply chain issue and inventory struggles, you will not pay for the traffic coming to your site.
You will only pay a commission to a partner if the traffic converts to a sale or order, therefore now more than ever, it is important to invest in affiliate marketing, especially if you want to hit specific KPIs, such as an aggressive return on ad spend. With affiliate marketing, you can work with a variety of partners and not have to necessarily rely on your brand's promotions to be successful.
We know this holiday season we'll have limited promotions with inventory issues. So leverage affiliate partners to engage with the audience you want. For loyalty partners, create your own promotion by offering a higher award or cashback rate. You do not need to have a site-wide offer to be successful.
For mass-media partners, take advantage of the product roundups. Such as what are the best gifts for your dad this holiday season, or what are some great last-minute gifts as you get closer to Christmas, there are so many options. And finally, in addition to supporting your profitable revenue growth, remember affiliate marketing is the only channel that will give your money back when items are returned. So come January and consumers decide they want to return some of their gifts. You will be able to get your money back from partners.
If you're in that locking period still. You do not get your money back from other channels. So think about it. You're paying for a potential CPC to drive traffic to your site. The product may be out of stock. The consumer could even abandon the cart, or if the consumer does buy, they end up returning the items. You are still paying for that click, whether a transaction happens or not. Just another reason to love affiliate marketing. If you have any questions and you want to learn more, please visit www.accelerationpartners.com. Thank you.
Hi, this is Lynsey Kmetz, managing director for Apogee Agency. We are a digital marketing agency based out of Atlanta, Georgia that specializes in affiliate program management, public relations, influencer marketing, and paid digital advertising. My number one tip for affiliate managers to activate their affiliates is to treat every affiliate you have like a part of your sales team, equipping them with all of the tools they need to promote the brand in the absolute best light, brightly colored creatives, product knowledge, and even the ability to use the products themselves to share with their audience over and over are crucial to the success of affiliate promotions in 2021. To take that one step further, consider giving your content creators the best web type deal to offer to their audience that can not be found anywhere else.
Customer behavior is constantly evolving and many people see something online and immediately hop over to see if it's available on Amazon, cutting the affiliate out of that sale completely by offering a deal or a discount that is more attractive to the customer than what is available on Amazon or the large coupon sites gives that affiliate a fighting chance against the big guys for the sale.
If you can offer your affiliate a unique coupon code that they can promote to their audience for those sales, they will also have a much easier time promoting the brand on social media. Additionally, if you can offer an enhanced commission higher than what the affiliate would make, if they promoted Amazon directly, you have a better chance of keeping that direct relationship with your affiliate, giving your content creators. These tools will help incentivize them to create great content, share their love for the products over and over, which is going to help their conversions and your affiliate program overall.
Need help activating your affiliates? Use my proven email templates for getting inactive affiliates in the game and making sales! Get them here!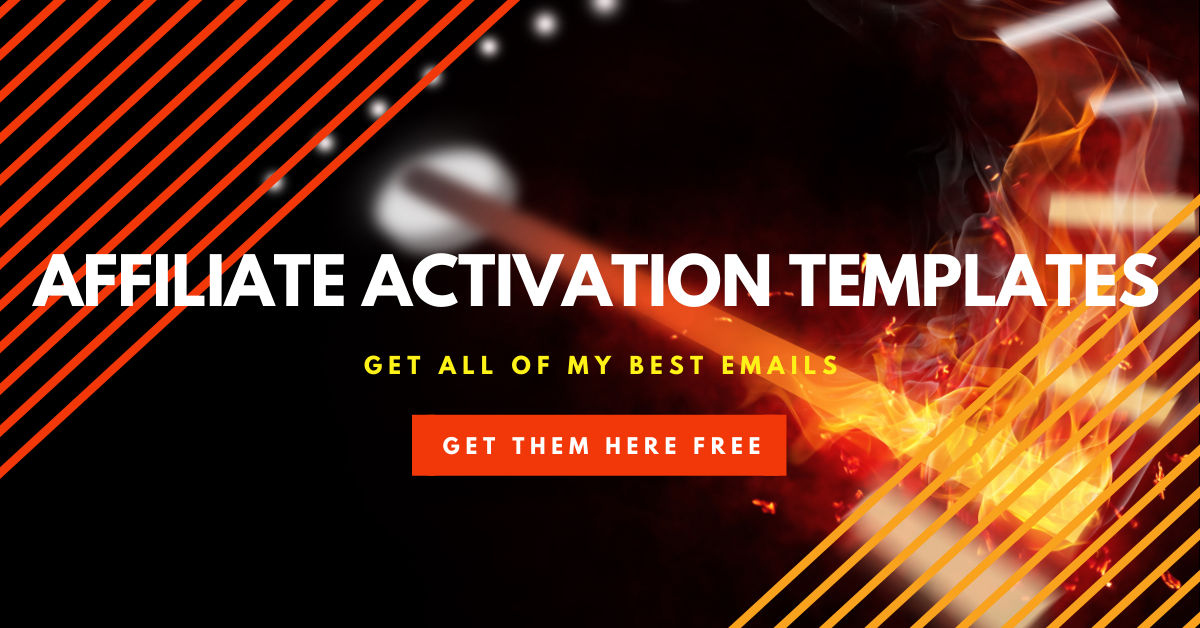 Matt, I get it like I'm supposed to do this, this, and this, but what about specific types of websites? What are the things that I'm supposed to do? I got asked questions about loyalty sites, coupon and deal sites, content sites, and content syndication sites specifically. Are there any specifics that I need to know about those? So I'm going to go through it quickly and talk about how to address those specific sites.
Loyalty Sites: If you don't know is a site where there's a, perhaps a reward, it's like, if you purchase through our link, then you're going to get this reward so I think, you tell me if not. You could classify that as a coupon site, but it's also a loyalty site. So on these, we want to offer aggressive cashback rates during our key periods of the holidays.
So one of the things that you want to look for is what are your competitors offering in terms of loyalty sites? When we ran programs and worked with loyalty websites, we look at this every week, what is the competition doing? Okay, they're at they're offering 5% cashback. Well then maybe we need to come in, we need to at least match that, we need to offer an enhanced commission so we can match that and play with these big boys. So when possible, do you want to be more competitive with your cashback on peak days if your budget allows? So look at those peak days, what are those peak days are days that we talked about in the episode about knowing your dates? Are the dates that are specific to you? is your shipping deadline a peak day, but maybe it's not a shipping deadline for others. Is there something where maybe there's a specific category? So at Shutterfly, for instance, with blankets, blankets needed to be ordered a little bit earlier than photo books because they take longer to ship.
I think that was what it was. Yeah. It was blankets and a few of the things they take longer to ship their bulk here. So what are those dates and what are the peak times where you could offer an enhanced commission to these loyalty sites to get them to push you?
Coupon or Deal Site: We've talked about this before a little bit, but offer exclusive codes to them offer exclusive sale opportunities. It could be a, one of the simplest ways is does it start earlier? Does it end later? Hey, we got early access to the sale is supposed to start as a flash sale. It's supposed to start at 4:00 PM Eastern, but this big coupon site starts at two and they get a two-hour headstart or one-hour headstart.
We've had examples where we authorize them just to be able to email even an hour early. So what are some things you could do there in exchange for additional exposure? Now we don't just say, okay, you mail an hour early and that's it. No, it's your mail an hour early and you're going to mail about it or you're going to put it front and center on your website. Those are the keys there. So you get additional exposure on their website and their newsletter offers vanity codes, especially for larger sales so that you can gain more exposure, offer exclusive code technology. Things like that, where you guarantee that if they use this code, it's going to track back to them. If they use coupon code, retail me not, and it's going to track back to them no matter what.
Occasionally consider once or twice during the season, you might want to do something like offer a little bit of an exclusive offer to a deal site, best of web pricing. So maybe you've got a 20% site-wide, you're going to give them a category say you're going to give them something. That's it's 30% off this category, something like that for the coupon and deal sites.
Content Websites: One of the easiest things to do is just to pay them to promote it could be as simple as for the blogs. Hey, if you post, we're going to give you 10 bucks. If you post, you're going to be entered to win an iPad. That typically has worked better. We actually ran a study a while where the company that we worked with would offer just $5, just $5, like $5.
If you post nothing wrong with that, a lot of people do that and they'd get about 300 people to post. So it cost 1500 bucks. I was curious what would happen. And I think at the time I pads were, I think they were about 500 bucks, they still are roughly thinking about $500 at the time. I was curious what would happen if we were in a contest that if you post, you will be entered to win an iPad. We had 500 people, but you got 60%. If I'm doing the math right, or 66% more action, 200 additional people posted and it costs us one-third as much. Pretty cool. So there's something to consider. You may just want to pay them directly or entered to win. Now you need to have enough affiliates so that you can enter to win a big prize. And all you have to do is post. Consider, offering them to promote specific products with a higher commission and reward your content partners, who are typically the first entry point.
A lot of times this is the debate in the industry. The coupon sites, the deal sites, the loyalty sites are stealing commissions. Well, make sure you reward your content partners, though, if you can, if you have the technology, most of the affiliate networks do some of the more simple things like Ontraport and Clickfunnels and Infusionsoft don't allow this. I think that's bad and there's going to be, well, I've got some stuff in the works to address that. We'll just put it that way and leave it alone. But do split commission where you pay the content affiliate, let's say you offer a 20% commission. You pay the content affiliate 15% and the coupon affiliate 5, that's an option, that's an option there. So you want to reward those coupon affiliates. But one of the best ways to do that is a very simple pay to post or enter to win if you post.
Content Syndication Websites: With content syndication websites, you want to offer an increased payout who maybe can do an early release or an early promo. You really got to look, you've got to be aggressive with your rate here. Like you want to be very attractive to them. And so you want to communicate with them early and get them to include you in their newsletter or get them to include you on their social media or whatever it may be. You really want to look at ways to incentivize them with those aggressive commission rates. It's huge.
One of the biggest things that they want is like I said, early access. So whether it's a product that's coming out or product launch or an early release of promotion or deal or something like that, give them early access. That's what's going to drive them. So there you have four types of partners that you need to optimize for the holidays. Save emails, create a file that you can refer to next August or September in 2021, whenever you plan for your holiday promos, and what subject lines. And do you think, man, that was a good one?
Now there's, again, there's not so much you can do to change what you're doing this year maybe you have some time this year. You might find an idea that you can copy right away. But if you'll watch and take notes to this year, then when the next year's holiday promo comes around, you'll have the playbook.
And again, as I said throughout the series, this not only applies next November and December, it applies next July 4th. It applies to Memorial day. It applies to mother's day. Father's day, a victory over Japan day. But if you watch now you pay attention now, then you have the playbook. And that's the thing. This is the key.
You're always creating a marketing playbook, create your marketing playbook, and the cool thing about this playbook because then you can refer to it in the future. You don't have to reinvent the wheel. You get to follow the playbook. You'll invent a few things here and there, but you do the same thing next year.
So document what you're doing this year, save the email, save the stuff, document your lessons. You tried this and it sucked. You come up with one of your ideas and it's brilliant. Maybe you try an idea at the end of a promo and you go, man, I wish I'd done that at the beginning. So you document that. And so next year you save all these things that other people have done.
And, and you keep a few of the things that you've done. Maybe you go into next year 25% of the stuff is stuff you did this year. And 50% of it is stuff. You're doing for the first time that you're stealing from this year, what you're watching this year, and the other 25% you makeup and half the stuff that you try, new works will you get to keep that. So now, you got 50% that works and you add those to your playbook and the playbook evolves. And then next year you have half the stuff done. Like we're always talking about how, as a second launch is 50% easier than the first, because you don't have to write all the emails.
You don't have to create all the promotional videos. And if you do, we do the videos, like were we doing some of our videos, but the scripts are almost identical. So I don't have to write the scripts. In fact, we don't even have to format the scripts for the teleprompter. It's all there. So it's 50% easier this year, creating the course,
we redid the course, but the scripts are 75%. Actually, the scripture playing 90% the same. So it was like 90% easier to create the course. And then the next year you do the marketing and it's 20% easier. And then the next year it's 10% easier and they start stacking on each other. And suddenly it's like, your promotions are getting bigger and bigger, but you're doing less work.
I think about when we promoted the product launch formula this year, I don't think I spent four hours on that. Not even, I don't even think I spent three. I spent maybe three hours on that promo. And we make a lot of money in excess of $10,000. Well, we make $10,000 for three hours of work.
The year before we made like $8,000 for six hours of work. The year before that we made like $5,000 for 10 hours of work. So the work is going down and the revenue's going up and it's just awesome. The key is doing that first one. And most people never do that just as a side note. Most people never do the first one. So you're way ahead of the game. So watch what other people are doing. Create your playbook. Don't put your guard up, don't put your guard up. Don't dismiss. Don't ignore them because you're busy. This holiday season, take notes, create your playbook.
I'll tell you right now if you got half as much out of that as I did, you got a lot.
So you gotta keep in mind, as some of these people are, they've been friends of mine for some of them more than a decade. There are some of the best in the biz. And while I certainly believe that we're good.
Ready to turn your passions into a profitable business? Check out my new book here!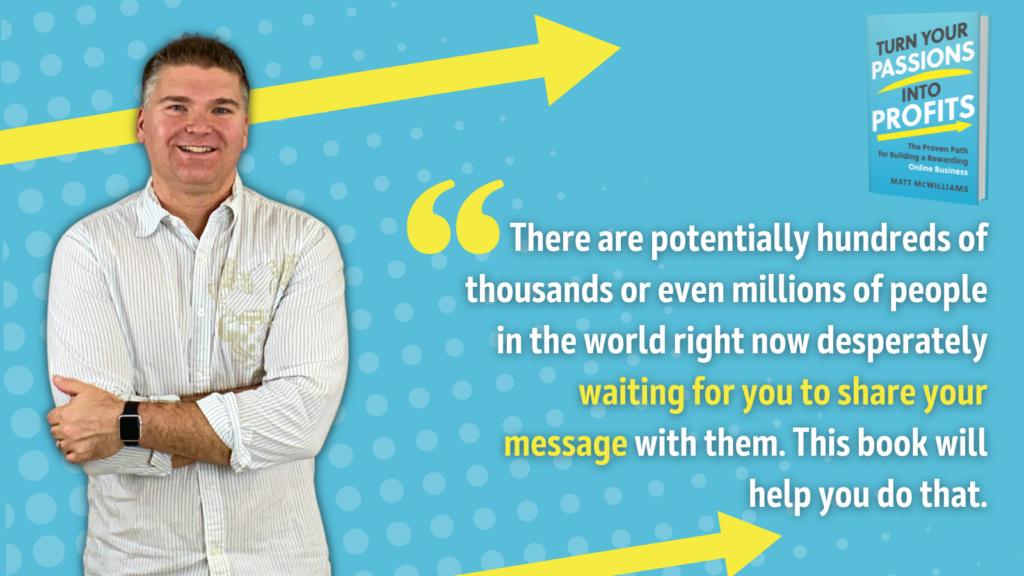 They're good too. And so if you're in their space, check them out, check them out and make sure that you, maybe some of them might be good affiliate managers for you if not us. You can always learn more about us at Mattmcwilliams.com of course, and youraffiliatelaunch.coach.com, and make sure you grab if you need, Hey, I want to, I want to get you some affiliates. Make sure you grab our report. Get your first 100 affiliates at Mattmcwilliams.com.first100. F I R S T 1 0 0. We'll put a link to that in the show notes. Speaking of links real quick, as I said all throughout the series, make sure you do three things.
Make sure you subscribe so that you don't miss any of the upcoming episodes. We're done with the holiday series here, but I've got an amazing episode coming up next week, my top 10 mistakes. This is specifically around affiliate marketing and entrepreneurship and things like that. My top 10 mistakes of 2021 and what you can learn from them. So you don't have to make the same mistakes. So if you want to know that plus my next one, after that, my top 10 lessons of 2021, we've got some amazing episodes coming up. I've got some predictions for 2022 coming up and even more. So I'm really excited about this. Make sure you subscribe so you don't miss a single episode. Do it now, click the subscribe button.
Secondly, check out the past additions of the ultimate guide to holiday affiliate promotions. We put a link to that in the show notes and get your audience warmed up for whatever you have coming out. Whether it's more affiliate promotions for the holidays or for January, or maybe mother's day is big for you. And you need to learn how to get them warmed up. Grab that warm-up guide. I've got a link to that in the show notes as well.
And like I said, come back for that next episode because I'm going to share with you the top 10 mistakes I've made at least so far in 2021. I'm probably going to make another one or two, but the top 10 from 2021 and what you can learn from them. I'll see you then. Thank you so much for listening today.
Remember to check out all of our deep dives into affiliate marketing at theaffiliateguy.TV. And if you have a question, ask at asktheaffiliateguy.com who knows maybe you even be featured on an upcoming episode.
Lastly, if you haven't yet make sure to leave a rating and review wherever you're listening to this episode. See you soon.