When life hands you lemons, open a lemonade stand. Better yet, when life hands you lemons, have a lemonade stand already open. Whatever you do, don't just sit back and make lemonade.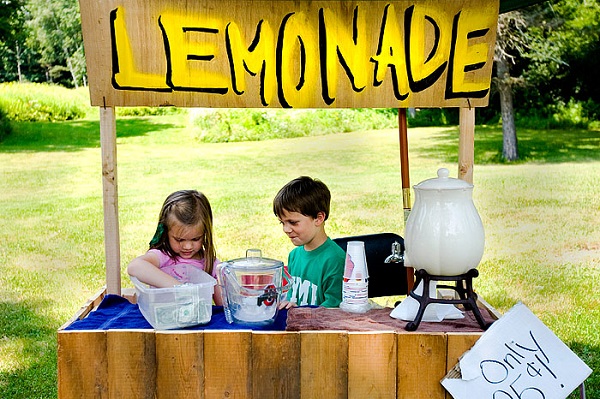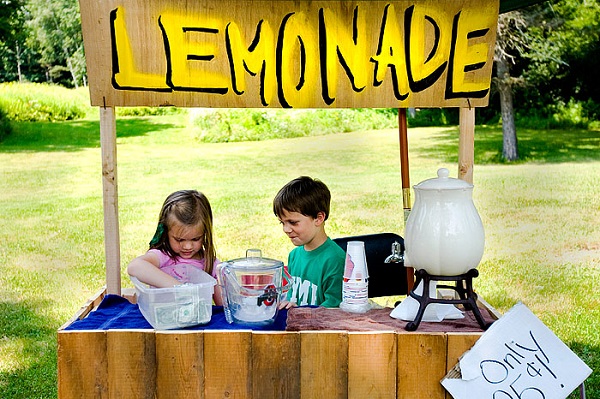 Life will hand you lemons. But two things will greatly impact how you come out of a downturn.
1. How you choose to respond.
This is the positive outlook and determination side of it. The old saying goes, "when life hands you lemons, make lemonade." I agree with the idea of that, but why not go further and open a lemonade stand?
Start a business, offer a service, or make something that you can sell. There has never been a better time in American history to start a business and there is certainly never a better time to open a lemonade stand than when life hands you a large pile of them. Just add sugar and water.
2. How prepared you are.
Even better than opening a lemonade stand after the fact is having one ready. I've written before about the values and virtues of having a side business, so I won't repeat those here. But the gist is that having a side business in addition to your "full-time job" gives you two things: extra income to save and a ready-made lemonade stand when life's lemons are poured out.
My story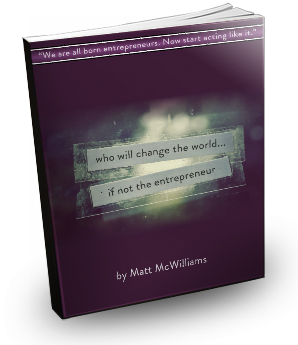 When I was twenty-four, my dad fired me. Literally the day after my twenty-fourth birthday. Even though I totally deserved to be fired, it sucked. But I left the golf course that he ran and immediately went home to work on a client's website. I was able to finish that home construction site more than a week early due to the extra time. I got numerous referrals from them.
A year before I started a web design business on the side to supplement my income during the tough winter times. I relied on word-of-mouth referrals and wasn't actively looking for clients, but I saved up the extra money. When my dad fired me, I had more than six month's expenses in the bank.
I spent the next few days actively marketing my services. And since I had a decent portfolio already, I wasn't starting from scratch. Within a few weeks, I had multiple clients and was making more than I had made working for my dad.
All because I had a lemonade stand already open.




Years later, I was married with a newborn and a brand new house. I woke up on a beautiful Saturday morning and what started out as a promising day immediately went sour when I was laid off. The company I was working for was struggling financially and had to lay off close to half their staff. I was one of them. That afternoon, I worked on some stuff for one my side business' clients.
For the previous four months, I had been working with some small clients as a consultant. The income from that not only gave us a huge cushion to withstand months of no "full-time" job, but I was literally able to pick up two new clients within a couple of months.
The rest, they say, is history. I now operate my version of a lemonade stand, Matt McWilliams Consulting, Inc., full-time. It is my business.
Looking back, the reason why life's lemons never buried me was because I already had a stand open. And come to think of it…the lemons turned out to be huge blessings.
What can you do today to prepare better for life's lemons?