This is a guest post from Tarzan Kay. Yes, that is her real name. In addition to having the coolest name in online marketing, Tarzan is a copywriter who teaches others how to write effective copy that converts. Visit her website for more awesome stuff. If you are interested in sharing a guest post with more than 54,000 readers, click here.
What is the ultimate key to rocking an affiliate launch? It's probably not what you think (or maybe it is and I'm just employing some ninja copywriting tactic to get you to read on). Either way, you should read on. Tarzan Kay has some awesome lessons to share.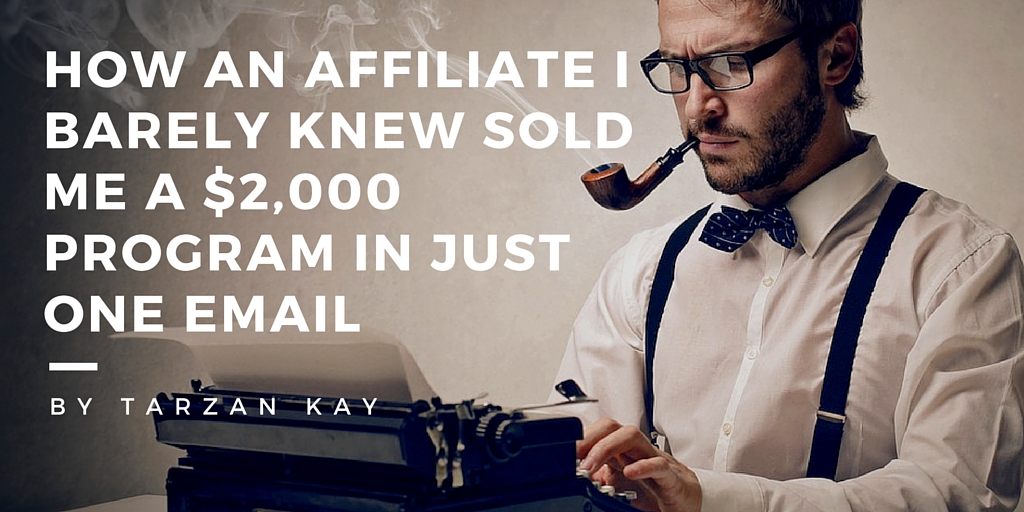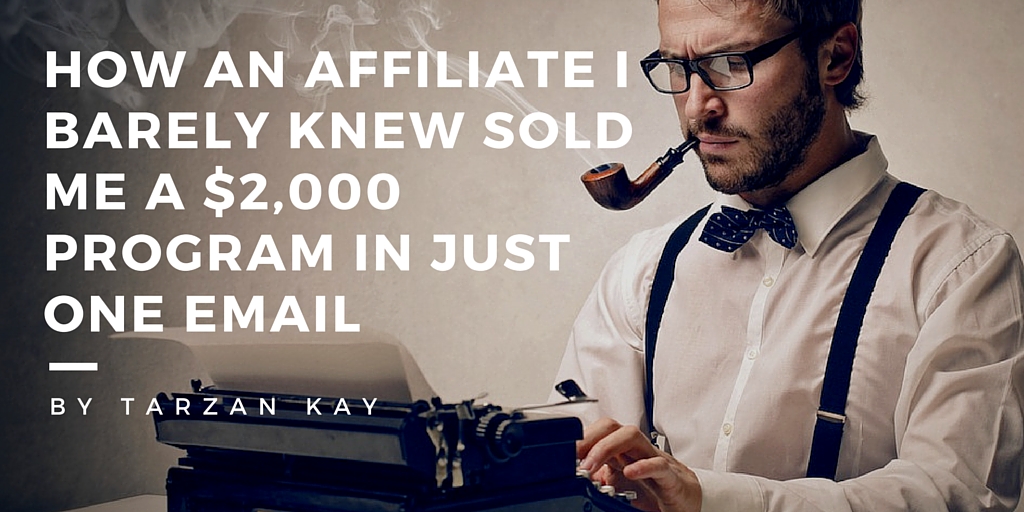 February is one of the craziest seasons for affiliate launches. For one simple reason—Marie Forleo's B-School. B-School is one of the most competitive affiliate communities out there.
A ton of big, BIG names are affiliates. Amy Porterfield. Derek Halpern. Kris Carr. (Here's a very small sampling of some of their bonuses.)
Affiliates are teaming up with other affiliates. They're offering bonuses worth thousands.
Danielle Laporte gave away her ENTIRE product line.
But here's a huge secret of some of the most successful affiliate campaigns:
It's not the bonuses that do the selling in affiliate launches. It's the email marketing.
No matter how delicious the affiliate bonus, people still need people to open the emails, click the links and spend some time checking out the offer.
(Skimming doesn't count—bonuses need to be properly teased so they can be properly perused.)
It's not the bonuses that do the selling in affiliate launches. It's the email marketing.
How an Affiliate I Barely Knew Sold Me B-School in Just One Email
After 3 years of B-School coming and going in my inbox via dozens of channels, I finally signed up.
I'm Canadian and exchange rates were crazy during enrollment season, so the price tag was actually over $3,000.
I signed up through someone you've probably never heard of. A copywriter whose email list I'd been on for about 5 minutes. Her name is Laura Belgray (…I'll give you a second to google her).
And the thing that set Laura apart from all the other giants marketing this program?
OUTSTANDING email copywriting. (The most important skill of any marketer, in case you haven't heard.)
Through the power of her copy (I challenge you to take your eyes off it), she demonstrated what was, for me, the ultimate trifecta. Laura created a personal connection between herself, me and the program.
Here's how she did it.
The 3 Things You MUST Include in Your Email Nurture Series
1. A personal connection to what you're selling.
Is the facilitator someone you've done business with before? Have you or someone on your team taken this program? (Your credibility will soar if the answer is yes.)
If so, be VERY specific about what you got out of the program.
Share some hard numbers. Did you raise your prices? By how much?
What changed in your business? Do you work fewer hours? Serve different clients?
What changed in your life? Do you take vacations now? Spend more time with your fam jam?
A real-life example from Katherine Hocking:
"In the six months after I did this course I took my business from $600 (total revenue!) to $6,000/month! So that is like a gazillion % growth!!
Within nine months of doing Marie Forleo's B-School I quit my $110,000 corporate job and I replaced that income with my business income."
2. The specific results the program will deliver.
Some programs have swipe copy for their affiliate partners, but even if that's the case you should personalize it.
RELATED RESOURCE: This quick video will show you how I use swipe copy for my affiliate promotions. Get it free here.
In addition to the results YOU got, tell your audience:
What results did past students get? If the product is all that, its creator can probably share some compelling stories for you to pass on to your audience.
What specific pain will this product relieve? Not everyone is looking for the same result. Look to your list and address their pain points.
Personalize this part based on the unique needs of your list. Use concrete details.
For example, instead of asking:
"Wanna quit your job and take your business full-time?"
You could say:
"Picture this. Your alarm just went off. But instead of dragging your butt out of bed and off to work, you sit up burning with ideas and energy because your former side-hustle is now your full- time gig."
Here's a real-life example from Laura Belgray:
"I was in a rut, doing the same job year after year and making the same birthday wish every time I blew out the candles: 'More money. Something more creative. Oh $&@%, they're melting into the cake.'"
"With tips, plus the ones I use from B-School — especially the Ideal Customer Avatar exercise you do in the first week of B-School — I've developed a creative outlet with a loyal, responsive audience (my blog) and a whole new side of my business (helping private clients with their copy)."
3. A time-sensitive offer.
Whether you're promoting an evergreen course or a launch-only course, your offer needs to be time-sensitive.
We all need help making a decision. A little push.
But be honest about it. If the course is available for registration year-round and your special offer is too, don't pretend it's not.
Some of your subscribers WILL go back and check to see if the deal is still live. And it won't feel good when you inevitably get busted.
Here's a real life example from Kate Northrup:
"SPECIAL FAST ACTION BONUS!
When you enroll through us in the next 48 hours, before 4pm EST this Friday, you'll also get an exclusive ticket to our online mini-course, Time Optimization for Busy People: How To Cut Through Your Overwhelm And Make The Most Out Of The Hours You Have."
When to Introduce Your Bonuses
The answer is: ALL the time. In your sales page. In your emails. Everywhere.
As Matt explained in this post, there are 2 persistent myths about bonuses—a) that they don't work, and b) that they have to be fancy.
Bonuses are hugely effective, especially for highly-competitive affiliate programs that offer big commissions.
If competition is high among affiliate partners, you'll need set your bonus apart from the sea of other bonuses.
Here's how Laura did it: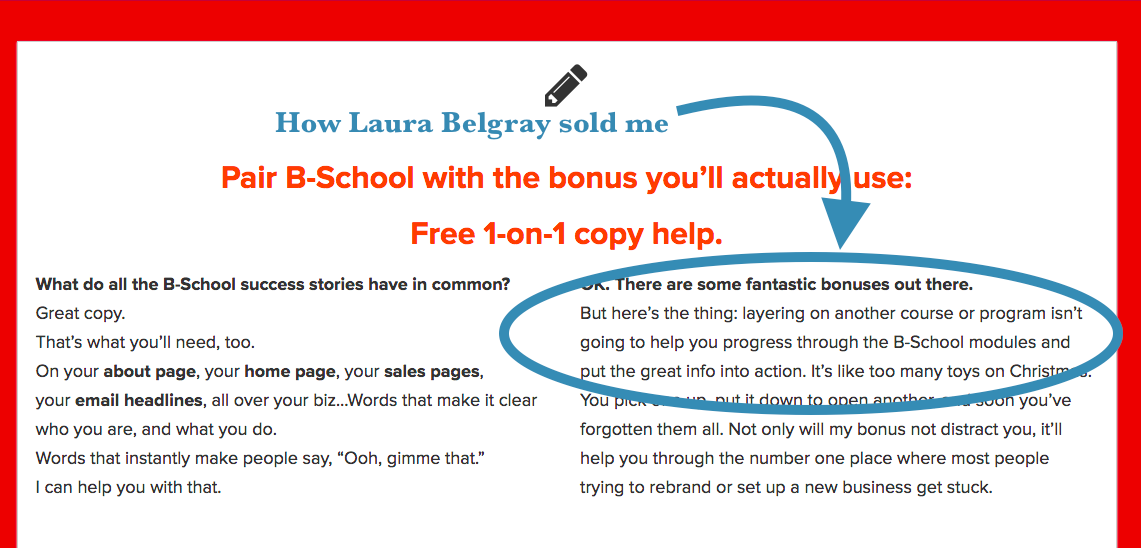 How to Avoid Annoying Your Subscribers
I've yet to work with a client who doesn't have some deep-seated fears about annoying subscribers by showing up a little too often in their inbox, or with too many offers.
This January I happened to be on 3 mailing lists of B-School affiliates. (Probably the reason I finally pulled the trigger on it. Think of other affiliate partners as allies, not competitors.)
When I got tired of hearing about it, I hit the unsubscribe button.
But I didn't actually unsubscribe from any of those mailing lists. Each list had something like this very visible in their promotional emails:
Another real life example from Kate Northrup
"If you'd prefer to not receive any more emails about B-School from me this year, please click here to opt out. I'll still show up in your inbox once a week with my regularly scheduled love nugget in the form of a blog."
Apply the Rule of Headlines to Your Email Copywriting
You've probably heard that you should spend 90% of your time on headlines, and 10% on body copy. Try that with your email marketing.
If you spent a couple of hours creating a beautiful bonus offer, spend at least the equivalent crafting some compelling messaging to properly tease your offer.
Got writers' block?
Invest in some copywriting training. If you can master this skill, you can sell almost anything.
Finally, watch what your most successful competitors (ahem…I mean allies) are doing. Get on their mailing lists. Look for partnership opportunities.
There's plenty of room for everyone. If you believe in a product enough to pitch it to your people, taking this attitude will bring you a ton of peace of mind.
What ONE thing can you do today to improve your email copywriting?
If you have a guest post, you'd like to share, click here to learn how to do so.
Questions?
Text me anytime at (260) 217-4619.
Or…check out some of my free reports to help you get on the right track: